POST SUMMARY | Thank you for joining us on my newest Blog, The CA Fire Report where fires of all types of fires and service related incidents, events and other newsworthy stories are reported all across the State of California.
#  # #
BALLYBUNION FIRE.  Ballybunion Ct. (Santa Clara County) in Gilroy.  10 acres.  CAL FIRE is assisting the Gilroy FD with a wildfire.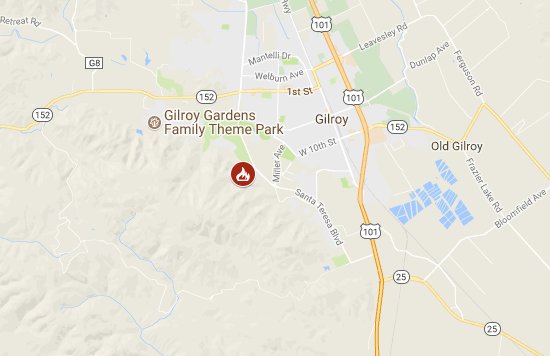 # # #
CALDWELL FIRE.  Kernville Rd x Sierra Way, 6 miles North of Lake Isabella (Kern County) in the Kern River Ranger District of the Sequoia NF.  Fire is located West of Kernville. #CaldwellFire
Brush fire reported 9/1/2017 @ 1437 hours. #CaldwellFire
Fire is burning in very remote terrain limited access by ground and is very active on the North and South sides. Crews are being flown in by helicopters and are hiking over one hour to reach the fire.  They are currently working on placing containment lines on the West side of the fire.  The fire has reached the Cannell Meadow Trail.
1,135 acres. 61% contained.  There is a threat of new fire starts from holdover lightning strikes.  Fire crews are bracing for a potential round of additional wildfires.
2 minor injuries. 210 personnel.
# # #
ECLIPSE COMPLEX.  5 miles West of Happy Camp on the Klamath NF.  Started 8/15/2017 around 0755 hours. Multiple lightning fires. #EclipseComplex
Total:  80,503 acres. 25% contained.  Estimated containment date is 10/10/2017.
Cedar Fire.  8,713 acres (Includes the #FourMileFire). 25% contained.
Oak Fire.  71,790 acres. (Includes the #YoungFire). Lightning caused.
Total of personnel is 920.
# # #
FORK FIRE.  North of Monument Peak and SW of East Fork Lakes in the Trinity Alps Wilderness..  Reported 8/7/2017.  Lightning caused.  #ForkFire
Firefighters spent the day scouting for an access point and ways to engage the fire. They will assess the Grasshopper Flat area from Canyon Creek Rd. until air conditions improve to insert air resources above the fire.
1,050 acres. 0% contained.
# # #
HELENA FIRE.  Hwy 299 Helena and near Junction City.  CAL FIRE is assisting the Shasta Trinity NF (Trinity County).  Reported 8/30/2017. Cause is under investigation. #HelenaFire
Inversion lifted causing fire to become very active once again. Fire equipment was moved and redeployed to improve a primary fire line along Low Gap and a secondary one at East Weaver Creek.  8,940 acres. 14% contained.
24 crews, 113 engines and 12 water tenders.
# # #
LA TUNA FIRE. Lovell Avenue x I-210, Verdugo Hills (Los Angeles County) in Los Angeles (City). LAFD lead Agency.  Cause is under investigation. In Unified Command.  #LaTunaFire
7,003 acres. 30% contained.
206 engines, 9 helicopters, 5 water tenders, 4 dozers, 9 ambulances, 12 crews and 1,061 total firefighters.
3 homes have been destroyed and 1 damaged.
4 Injuries. 1 Firefighter transported on Sunday, 9/3/2017 due to a heat-related illness, 1 treated for minor burns.  2 Firefighters were transported on Saturday, 9/2/2017 for fire related illnesses and are in stable condition.  1 CERT member medically evaluated and released.
# # #
MARGARITA FIRE.  Santa Margarita Lake Rd x W. Pozo Rd., 7 miles SE of Santa Margarita (San Luis Obispo County).  150 acres. 15% contained. Forward spread stopped by retardant lines. Wind-driven but some rain is falling helping fire crews.  #MargaritaFire
# # #
MILLS FIRE.  Hwy 89, 1/4 mile North of Crescent Mills on Plumas NF (Plumas County). 150 acres. 20% contained. #MillsFire
# # #
MISSION FIRE.  Mission Dr. x Italian Bar Rd., 2 miles East of town of North Fork (Madera County) x Forest Rd. 8509.  CAL Fire is lead Agency.
300 personnel.  Incident Cooperators include:  CAL Fire, Madera County Fire and Madera County Sheriff's Office.   #MissionFire #CALFire #MaderaCounty #MaderaCountySO #MaderaCountyFire
Moderate fire behavior is burning brush near the community of Cascadel Woods.
Fire has burned on to the Sierra NF lands.  650 acres. 200 structures threatened.
 # # #
PALMER FIRE.  San Timoteo Canyon Rd X Fisherman's Retreat in Beaumont (Riverside County).  Reported 9/2/2017 @ 1333 hours.
Unified Command – Redlands FD, Beaumont PD, Riverside County Sheriff's Office and San Bernardino Sheriff's Office.   #PalmerFire
3,800 acres. 35% containment.  There are no current evacuations in effect. (All orders have been lifted.)
300 Firefighters.  2 helicopters, 26 engines, 20 overhead personnel, 12 fire crews and 2 bulldozers. Helitender and Medic Squad.
Incident Cooperators include Red Cross, Beaumont PD, CAL FIRE / Riverside, San Bernardino, San Diego, CHP, City of Hemet FD, Idyllwind Fire Protection District, OCFA copter, Riverside City and County FD, Riverside County Sheriff's Office and FD, San Bernardino County Sherff's Office, Southern CA Edison, USFS – San Bernardino, Union Pacific RR and Redlands FD.
# # #
PEAK FIRE.  Indian Peak Rd.  x Usona Rd., 9 miles SE of Mariposa. (Mariposa County). 350 acres. Started 9/3/2017 @ 1310  hours.  #PeakFire
Evacuations in effect.  All of Usona Rd. from Indian Peak to Leonard Rd.  Red Cross Shelter located at the Oakhurst Community Center at 39800 Fresno Flats Rd. in Oakhurst.
Evacuation Shelters.  Church of the Nazrene – 2238 Monte Visa Avenue, Oroville.
Animal Shelters. Small Animal Shelter at The Old County Hospital – 2279 Del Oro Avenue, Oroville.  Large Animal Shelter – Camelot Equestrian Park – 1985 Clark Rd. Oroville.
# # #
PIER FIRE. Hwy 190, East of Springville.  Started 8/29/2017. Human-caused and under investigation.
Fire remains active throughout the day, primarily on the South side for the fire. East side of fire crews continued to contain a 30-acre hot spot and assisted by air resources.  Crews continued to construct and improve a dozer line and handline in the Balch Park area for structure protection on the NW side of the fire.
17,418 acres. 5% contained.
A valve house above the Tule Power house, 6 distribution poles and associated equipment owned by CAL Edison have been destroyed. This affects both SoCal Edison and PG&E power transmission infrastructures.
1,318 personnel. 30 crews, 6 helicopters, 109 engines, 21 dozers and 13 water tenders.
Public Info Line.  Evacuees call for evacuation status. Tulare County EOC 559-623-0200 between 0800 – 2000 hours.
2 injuries reported.
Evacuations and Shelter info here –> https://inciweb.nwcg.gov/incident/5548/
# # #
PLEASANT FIRE. Off Hwy 49 X Pleasant Valley Rd, South of North San Juan. (Nevada County). Started 8/30/2017 @ 1538 hours PDT. CAL FIRE – Nevada – Yuba – Placer Unit.  Cause unknown and under investigation.  Firefighters are continuing mop up operations on the West side of the fire while suppression repair work is under construction throughout the area.  #PleasantFire
392 acres. 92% contained.
Incident Cooperators include Nevada County Consolidated, NCSO, Nevada Co OES, CHP, Grass Valley Fire, North San Juan, NV City FD, Campton, State Parks, CDCR, Penn Valley, NV County OES, PG & E, CAL Trans and Yuba County Sheriff's Office.
241 personnel. 22 engines, 6 crews, 3 helicopters, 2 dozers and 4 water tenders.
All evacuations have been lifted.  1 structure damaged and 1 destroyed.
1 injury has been reported. Condition and who it was is unknown at the time of this post.
# # #
PONDEROSA FIRE.  Ponderosa Way x Lumpkin Rd., 2 miles NW of Forbestown (Butte County). Started 8/29/2017 @ 13:16 hours. Cause unknown, under investigation.  Some media outlets are reporting an unattended campfire.  #PonderosaFire
Fire is in steep, inaccessible terrain and 100+ temps are fire crews challenges.  To continue to build containment lines around the fire.  Fire fuels include grass, brush and timber litter.  Conditions are very dry with short-range spotting.
Estimated containment is 9/7/2017.
Resources.  1,692 personnel.  128 engines, 43 fire crews, 12 helicopters, 22 dozers, 26 water tenders.
Incident Cooperators.  Butte County Sheriff's Office, Butte County FD, Butte County, CAL OES, Bureau of Indian Affairs, CAL DOC and Rehab, Red Cross, CHP, USFS, CA Dept of Parks & Rec, PG & E, CAL Conservation Corps, North Valley Animal Disaster Group, Butte Medics, CA DOT, South Feather Water & Power, Yuba County Sheriff, Yuba County OES and Sierra Pacific Industries.
Notification Center will be open on Monday, 9/4/2017 located at 202 MIra Loma in Oroville.  Hours 1000 – 1500 hours PDT.
Weather forecasters (as of 1845 hours) are saying possible electrical storm in the area of Feather Falls.
4,014 acres. 64% contained. 46 structures (32 homes/14 outbuildings) destroyed. 2 injuries.
# # #
SALMON AUGUST COMPLEX. Klamath NF. Located on Marble Mountain Wilderness and Klamath NF side of the Trinity Alps Wilderness. Started 8/11/2017. #SalmonAugustComplex #WallowFire #MaryFire #. #RushFire #GrizzlyFire #GardenFire
Fire behavior is active with short-crown runs, long-range spotting and roll-out. Total:  48,889 acres. 15% contained.  Estimated containment date is 9/20/2017.
Unified Command with USFS and CAL FIRE. 1,624 personnel.
Wallow Fire.  Priority fire being focused upon. #PointersFire and #IslandFires merged into the #WallowFire are no longer considered separate. Crews are working to build and improve containment lines on the north and East side of the fire perimeter. Fire camp is in a remote location some crews have camped North of the fire area and receiving supplies via mule teams.
Mary Fire.  5 miles South of Cecilville on the divide between the Klamath and Shasta Trinity NFs. Crews have cut line into the areas that most threatened. 142 acres. 70% containment.
Rush Fire.  3 acres. 100% contained.  Fire being monitored.
Grizzly Fire.  90 acres. 100% contained.  Fire being monitored.
Garden Fire.  183 acres. 100% contained.
# # #
SLINKARD FIRE.  Start date 8/29/2017 by lightning. Originated in the Slinkard Valley .  It has moved to the West slope of Antelope Valley, West of Topaz Lake and 8 miles North of Walker, CA.  (in Alpine and Mono Counties, CA and Douglas County, NV)  Fire fuels are short grass, brush and timber.
Unified Command consists of:  BLM, BIA, USFS, East Fork FD and Antelope Valley FD.
9,093 acres.  35% contained. Fire fuels include cheat grass, sagebrush and pinyon/juniper.
421 personnel. 112 crews, 4 helos, 30 engines, 3 dozers and 11 water tenders.
(c) 2017 The CA Fire Report – Updated 9/4/2017 @ 00:10 Hours PDT