POST SUMMARY | Not only are wildfires bursting on to the scene in the NW but all across the State of California.  So many of them, we are working to catch up to name them all.   
Here is just a brief compiled list here on Friday night, September 9, 2017.
# # #
CREEK FIRE
Started 9/3/2017 @ 1922 hours. Located on the Stanislaus NF.  Lightning caused.  #Creek Fire
0 injuries reported.
190 acres.  0% contained.
23 personnel.
ECLIPSE COMPLEX
Includes Abney, Cedar and Oak Fires. Located 5 miles West of Happy Camp on the Klamath NF.  Multiple lightning fire starts. #EclipseComplex #AbneyFire #CedarFire #OakFire
Abney Fire.  9,500 acres. 12% contained.
Cedar Fire. 9,050 acres. Unknown containment status.
Oak Fire.  87,107 acres. Unknown containment status.
Total acres is 96,151 acres.  25% containment status.
EUREKA FIRE
Near McRae Meadows (Plumas County). Mutual aid.  Assisting USFS – Plumas NF.  Reported around 1950 hours PDT.
HELENA FIRE
Started 8/30/2017 @ 1710 hours. 2 fires. Located near Helena, West of Waterville. Fire is burning along Hwy 299 and on both sides of the Trinity River. #HelenaForkFire
Fork Fire.   Located on the Trinity Alps Wilderness. Close to merging with the Helena Fire in the next few days.
CA IMT team 3 is in Unified Command with CAL Fire.  1,567 personnel.  127 engines, 33 crews, 21 dozers, 10 water tenders and 10 helicopters.
MISSION FIRE
Started 9/3/2017 around 1305 hours.  Cause is under investigation. Located on the North Fork (Madera County).
1,035 acres. 60% contained.  3 structures destroyed.
1,521 personnel. 112 engines, 115 water tenders, 33 hand crews, 9 dozers and 2 others.  Incident Cooperators are CAL FIRE, USFS – Sierra NF, Madera County Sheriff Office, CDCR, Madera County Fire, CAL OES, North Fork Rancheria of Mono Indians of California, the American Red Cross, PG&E and the CA National Guard.
Members of the 144th Field Artillery Battalion of the California National Guard based out of Burbank have been called up and were deployed to assist with firefighting activities and serve under the Unified Command structure.  They were requested on 9/8/2017.
ORLEANS COMPLEX
Community Fire Meeting.  9/19/2017 @ 1500 hours at the Karuk DNR Building.
Limited information is available on this wildfire. We will post more updates as they arrive.
Credit: USFS
PEAK FIRE
Started 9/3/2017. Unknown cause.  Located Indian Peak x Usona Rd., 9 miles SE of Mariposa (Mariposa County).  CAL FIRE – Madera-Mariposa-Merced Unit
680 acres. 93% contained.  2 structures lost.
Evacuation order of all Usona Rd. from Indian Peak to Leonard Rd.
American Red Shelter is located at the Oakhurst Community Center.  29800 Fresno Flats Rd., Oakhurst, CA.
PIER FIRE
Unknown start date. Located Hwy 190 and East of Springville in Tulare County. #PierFire
24,949 acres. 40% contained.
Mandatory evacuations of Alpine Village, Doyle Springs, Cedar Slope, Camp Nelson, Mountain Aire, Rogers Camp, Sequoia Crest, Pier Point, Springs and Wilson.
Voluntary evacuations of Upper Rio and Vista were lifted today.
Limited information is available for this wildfire.
PONDEROSA FIRE
Started 8/29/2017 @ 1316 hours. Near Ponderosa Way and Lumpkin Rd. and 2 miles NW of Forbestown (Butte County).  Human caused. Exact cause has not been released by law enforcement officials yet.  #PonderosaFire
4,016 acres. 98% contained. 54 structures destroyed (32 homes and 22 outbuildings).  All evacuations have been lifted.
incident Cooperators include:  Butte Co. Sheriff Office, Butte County FD, Butte County, CAL OES, Bureau of Indian Affairs (BIA), CAL Dept. of Corrections (DOC)l, Red Cross, CHP, USFS, CAL Dept. of Parks and Rec, PG&E, CA Conservation Corps, North Valley Animal Disaster Group, Butte Medics, CAL Trans, South Feather Water and Power, Yuba Co. Sheriff Office, Yuba Co. OES and Sierra Pacific Industries.
2 injuries reported.
234 personnel.  20 engines, 5 crews, 4 helicopters. 7 dozers and 7 water tenders.
Firefighters are working to patrol, mop-up and strengthen containment lines.
RAILROAD FIRE
Unknown start date. Unknown cause. Burning between Sugar Pine x Fish Camp, along SR 41.  Fire fuels include Brush, logging slash and timber. #RailroadFire
SCSIIMT is IC and managing 1,079 personnel.
12,344 acres. 55% contained. Estimated containment date is 9/15/2017.
Fire behavior is moderate.
SALMON AUGUST COMPLEX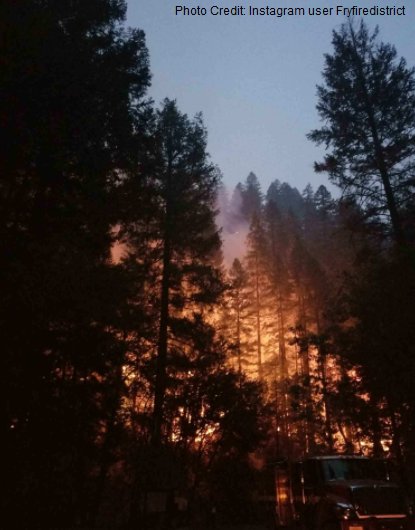 Started 8/13/2017.  West of Etna (Siskiyou County).  #SalmonAugustComplex
65,343 acres.  15% contained.
1,625 personnel.
Fire over the fire line on 9/7/2017, helped cool down the hottest areas of the fire.  The previous day, over 100,000 gallons of retardant was used onto designated ridges on the east edge of the Wallow Fire.
This helped slow the forward spread and is used as a buffer between fire fuels and the fire's edge.
Some of the fire resources were used to support local firefighters on a new lightning fire starts near Yreka and near this Complex.
Deep Fire. is about 6 miles North of this Complex and is about 150 acres.  There is an unknown containment status at this time. Three hotshot crews and some air resources were assigned to this new fire.
SUMMIT COMPLEX
3 fires. Started 7/31/2017 @ 1344 hours. Lightning caused. #SummitComplex #McCormickFire
McCormick Fire. Burning in the areas of the Clark Fork Rd., Clark Fork Rd. Campground and Horse Camp, Sand Flat Campground and Camp Peaceful Pines.
4,214 acres. 10% contained. Minimal fire behavior.
125 personnel.
Incident Cooperators are the USDA Forest Service, Bennet Juniper Care-takers (Save the Redwoods), CAL FIRE, CAL Trans, Dodge Ridge Ski Resort, Kennedy Meadows Resort and Pack Station, Me-Wuk Rancheria Fire Crew and the Tuolumne county Air Pollution Control District.
Fire Images | All credit is given to the Photographer respectively and to the best of our knowledge. We do not lay any claims to the fire images in this post unless it is listed as our own.  All fire images in this post are Courtesy of Inciweb.
(c) 2017 The CA Fire Report – Updated 9/8/2017 @ 2315 Hours PDT