SUMMARY | Fires are burning up the California landscapes and it appears that the Fire Season is hotter than ever.   Here is our recap for Tuesday, September 26, 2017.  As we glean information from various sources, we will be adding more fires.
CANYON FIRE
The Canyon Fire is a brush fire located on the Eastbound 91 Freeway at Coal Canyon Road and Gypsum Canyon in the City of Anaheim that started on September 25, 2017 around 1302 hours PDT.
Credit:  OCFA
The ICP is Unified Command with the City of Anaheim, Orange City, Corona, OCFA, USFS and CALFire.  Type 1 IMT has been activated.
Currently, there have been 2,000 acres destroyed but a 15% containment status has been reached.  Firefighters will continue with building containment lines in steep, heavy brush ares and structure protection.  With such aggressive fire tactics from air and ground, the fire behavior has been slowed.  They were dealing with flare ups earlier this morning.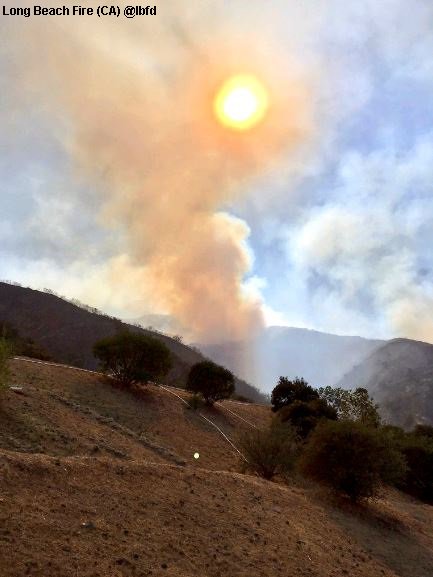 Credit:  Long Beach FD
No injuries have been reported.
There are 1,900 structures that are being threatened.  None has been damaged or destroyed.
Evacuations are in effect for those areas South of Green River Road from SR 91 to West Foothill Parkway include the Skyline Drive area.   The Evacuation Center is located at Corona H.S. at 1150 West 10th in Corona, CA 92882.  Small pets are allowed in at this facility.
Credit:  OCFA
Resources include 1,652 personnel along with 272 engines, 10 water tenders, 11 helicopters, 9 airtankers, 7 fixed wing, 30 hand crews and 20 dozers.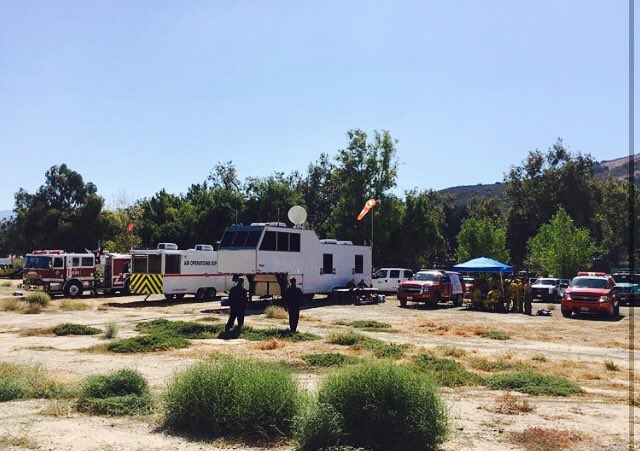 A Type 1 Heli-base along with OCFA Air Ops. Credit: OC FFs FB.
Incident Cooperators are those who partner with Incident Command who work together to suppress, contain and assist.  Those who are part of this incident is CALTrans, CA DOC and REHAB, CA Conservation Corp, CA Highway Patrol, S'CAL Edison, CAL OES, OCFA, OC Parks, Riverside Co EMD, Riverside Co Sheriff Office, Sempra Energy and CA State Parks.
Sources:  OCFA, CAL Fire
linne fire
The Linne Fire is located on Geneseo Road and Linne Road (reported address of 3776 Geneseo Road), East of Paso Robles that started on Tuesday, September 26, 2017, around 1645 hours.
Fire Manager of this incident is CAL Fire – San Luis Obispo.
About three hours ago (around 1730 hours PDT), the Ventana Handcrew was diverted to this fire but after completion of line construction, they were diverted to another fire called the Poly Fire.
Incident Cooperators include Ventana Handcrew, CALFire – SLO,
Firefighters were able to contain this fire to 40 acres and stop the forward progression.  Crews have reached a 50% containment status and are currently mopping up.
(c) 2017 The CA Fire Report