SUMMARY | The fire season seems like it is hotter than ever and though some U.S. states are cooling down, California appears to be still in sync with firestorms coming and going. Some have reported that this has been an unusually hot fire season for time of year. 
As we glean information from various sources, we will be adding more fires.
CANYON FIRE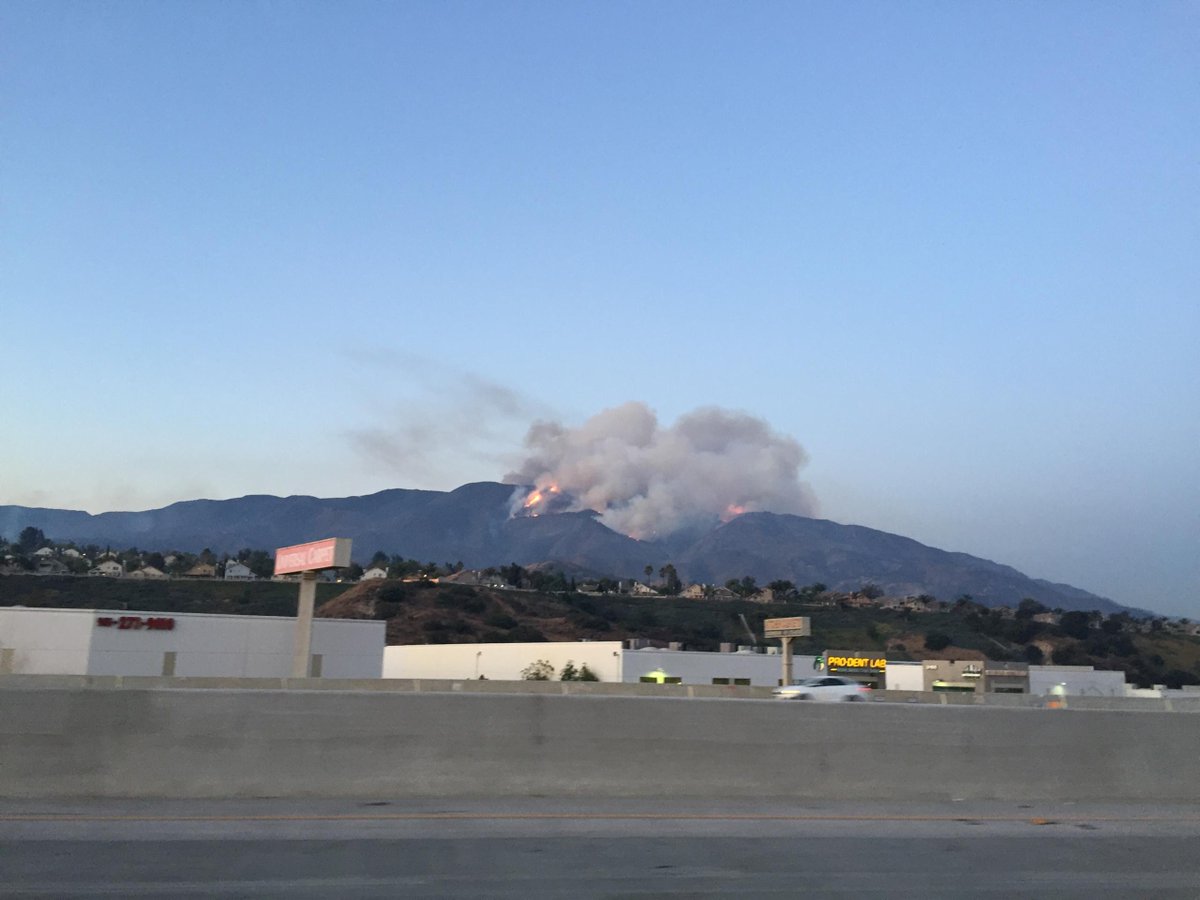 The Canyon Fire is a brush fire located on the Eastbound 91 Freeway at Coal Canyon Road and Gypsum Canyon in the City of Anaheim that started on September 25, 2017 around 1302 hours PDT.
The ICP is Unified Command with the City of Anaheim, Orange City, Corona, OCFA, USFS and CALFire.  Type 1 IMT has been activated.
Incident Cooperators are those who partner with Incident Command who work together to suppress, contain and assist.  Those who are part of this incident is CAL TRANS, CDCR, CCC, CHP, Orange
Canyon Fire seen burning (above) on the top of the mountainside from the roadway. (Credit: Cleveland NF)
County Sheriff Office, OCFA PIO,  Orange Co. Parks, Riverside Co. EMD, Riverside Co. Sheriff Office, CAL State Parks, S CAL Edison, Los Padres NF, Sempra Energy, CALFire – SLO, Riverside County, Anaheim Fire, Corona FD and Cleveland NF .
Firefighters have successfully held the fire to 2,000 acres and have reached a 15% containment status.   They remained overnight mopping and in structure-protection mode.
** Fire Officials are asking folks not to call 911 for Fire Info.  ** This is only for Life and Safety emergencies only. Calling this line will only delay those who need Fire and/or Police from responding quickly. DON'T BE THAT GUY tying up the line.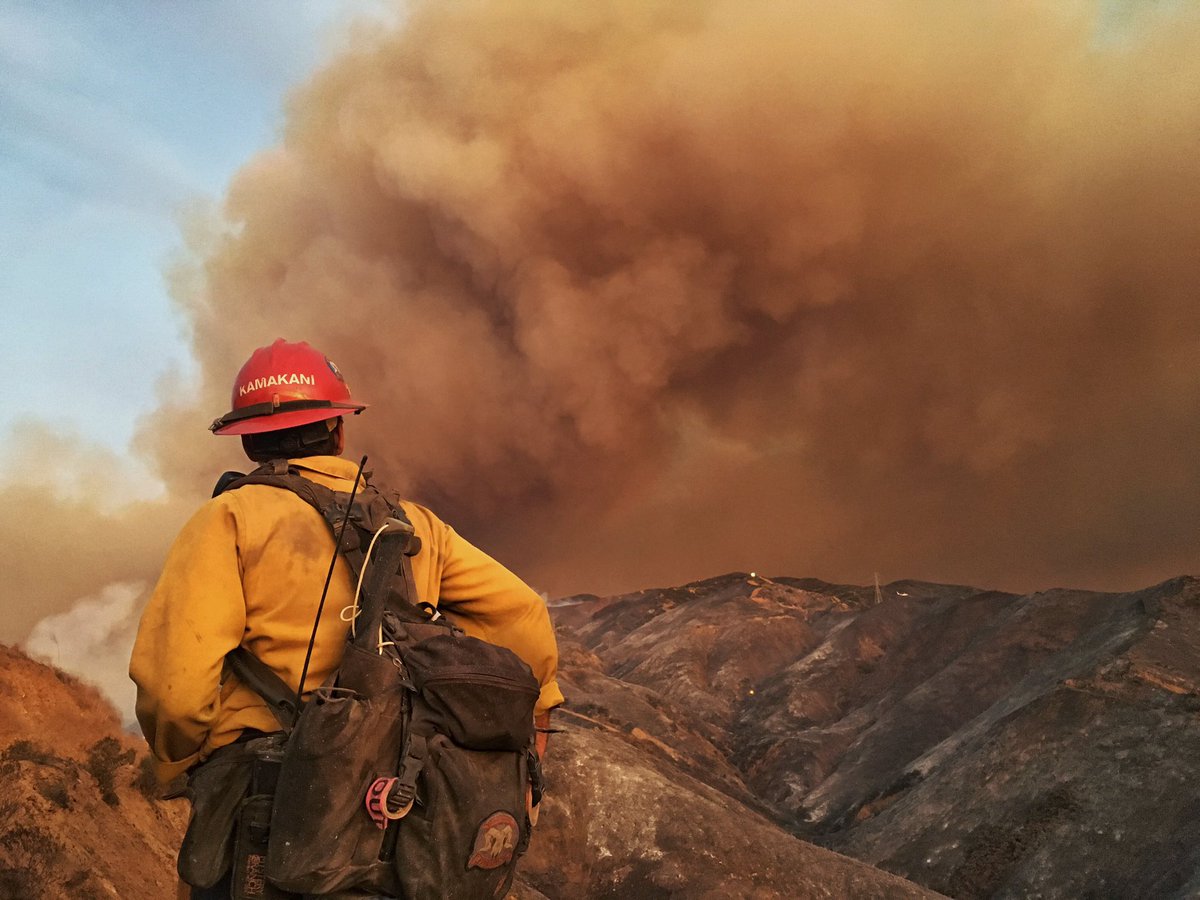 This is a HUGE Firestorm (above).  Looking through the Eyes of a Firefighter is a front-row seat visual of what they are seeing.  As you can tell, it is not a pretty scene but we are happy they are fighting these blazes. (Credit: OC Firefighters)
Resources include 1,589 firefighters, 11 helicopters, 9 airtankers, 10 water tenders, 30 hand crews, 272 engines and 11 cooperating agencies.
Corona H.S. used as an evacuation shelter has been closed on Wednesday, September 27, 2017 @ 1500 hours due to all evacuation orders being lifted at 1000 hours this morning.
3 structures have been reported as damaged.  We do not have the location where these buildings are located.
Fire Fact:  59% of wildfires on National Forest lands in 2017, have been caused by lightning, mostly in Northern California and the Sierra Nevada. -USFS California
POLY fire
A fast-moving brush fire broke out behind the CAL Poly dorms on September 26, 2017.  CAL Fire – SLO engines were responding to the brush fire around 1530 hours.  It was reported at that time of a 2-3 acre grass fire.  Media reported around 1549 hours in the Sierra Madre and Yosemite dorms had been evacuated. Students were in the dorms and were safely moved to the Mott Athletic Center.
CAL Poly, is a nationally ranked polytechnic university in San Luis Obispo, California.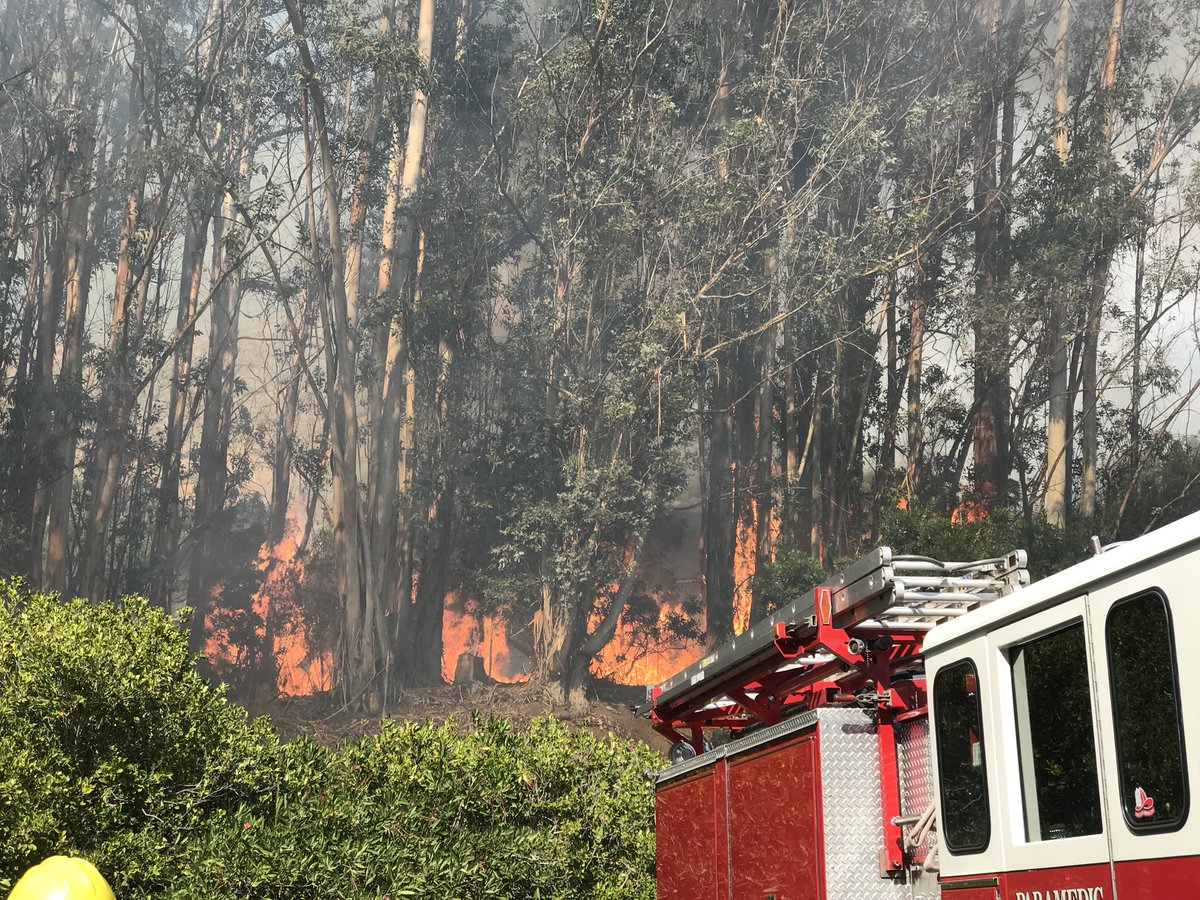 SLO City and CALFire – SLO battling a blaze behind the CAL Poly facility. (Credit:  SLO City Fire)
Around 1552 hours, the fire was said to have reached an estimation of 20 acres scorched.  Some Media outlets started reporting around 1602 hours, the fire had reached up to 97 acres.  At 1657 hours, CAL Fire released a statement the fire was only at 40 acres.
Social Media began posting a smoke-filled downtown San Luis Obispo fire images all over Twitter.
At 2021 hours, students began returning to dorms while resident were going back home.  Road closures and evacuations warnings were lifted.
On September 27, 2017, around 1432 hours, a spot fire was visible outside the fire line.  Crews were taking action with fire suppression equipment and ground resources.
The new fire (second one) was listed as a spot fire and has been deemed to be under control to three acres.  CAL Fire released a presser around 0716 hours PDT, the fire had grown to 95 acres and at a 75% containment status.  The fire is moving away from the college.  As of 1704 hours, the fire has now added about one acre to the main fire and listed as 105 acres total.  Fire crews have reached a new 90% containment status.
No firefighter or civilian injuries have been reported.
32 FIRE
A small brush fire broke out across Hwy 32 and Humboldt Road, about five miles NE of Chico in Butte County on September 25th from an unknown cause.  Firefighters from CALFire – Butte County were on-scene around 1115 hours to discover and report a 40-acre fire with requests from air and ground resources immediately requested.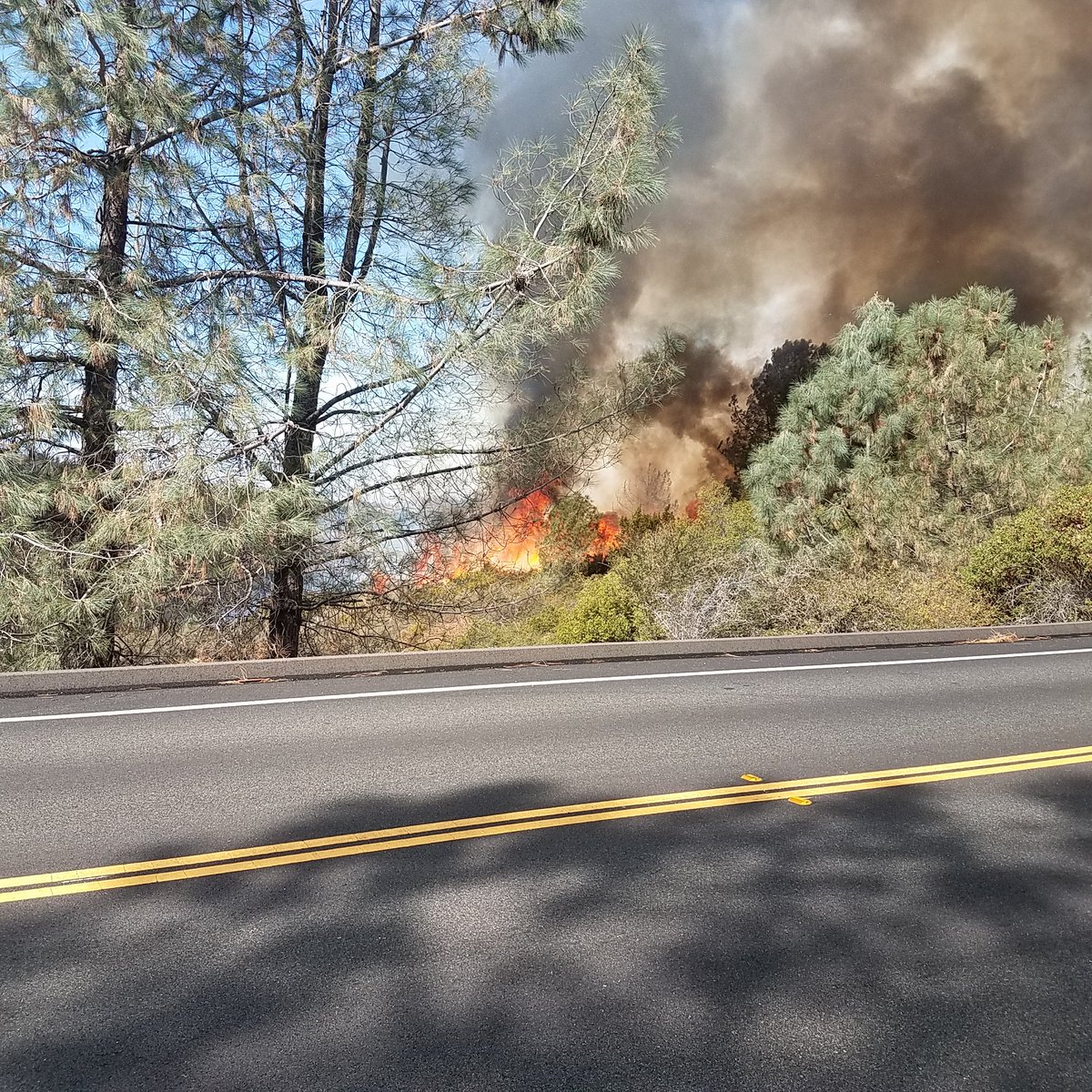 Fire (above) in brush on the 32 Fire taken on September 25. (Credit: CALFire – Butte County)
At 1240 hours, short-range spotting was reported crossing Highway 32.  There were no evacuations in effect at the time. Almost 15 minutes past and it was announced the highway was open to one-way traffic but only with a pilot car.
Almost one hour later, fire crews from the same agency would be dispatched at 1342 hours would be dispatched to another brush fire on Cohasset Road with a cross of Nicalog Road in Chico. That fire would be contained to one-half of an acre and with forward progression stopped at 1352 hours and the fire fully contained at 1509 hours.  This fire was dubbed the Cohasset Fire.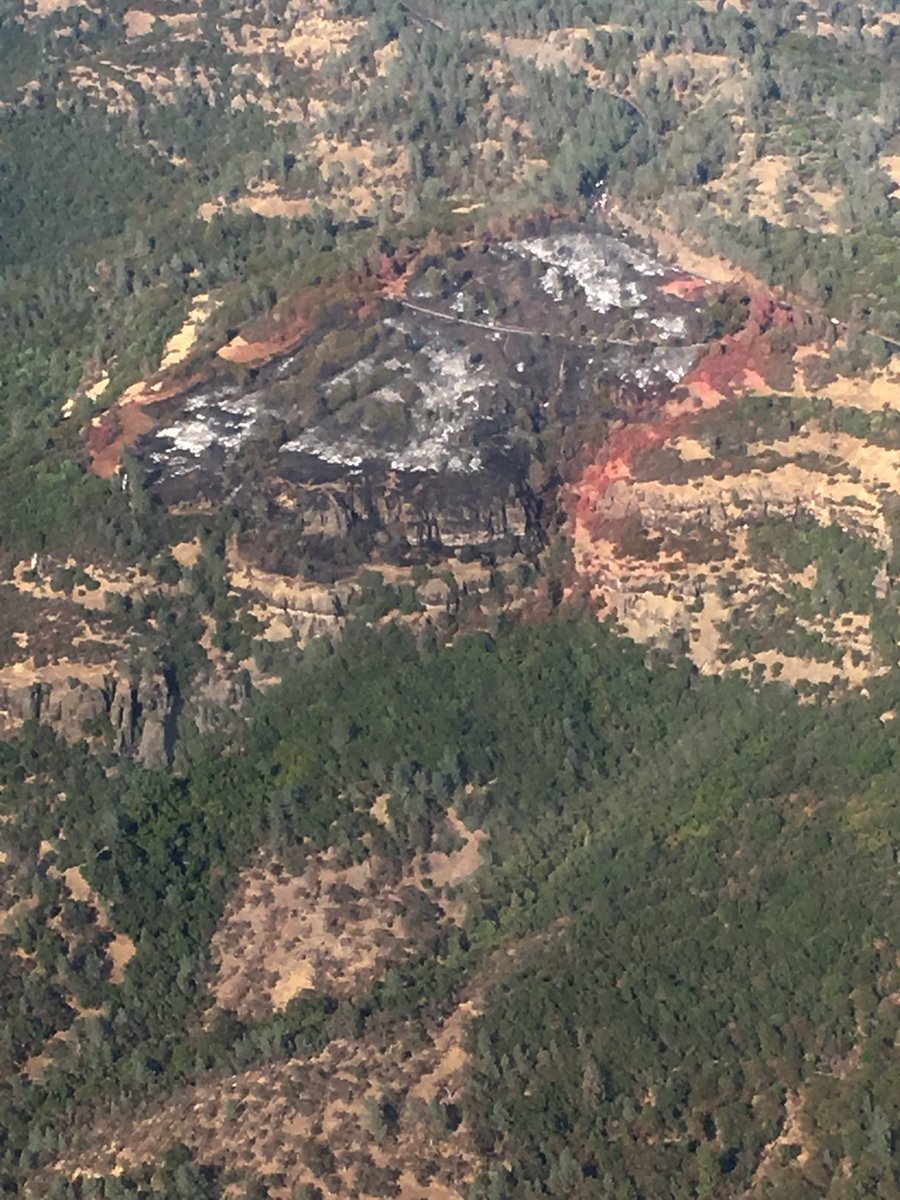 A large section of land (above) shows where the 32 Fire scorched the landscape during a recon flight overhead. (Credit: CALFire – Butte County)
On the 32 Fire, the fire would reach 50-60 acres and a 5% containment status.  The reached a 40% containment status at 1759 hours.
Around 1823 hours, the fire had been decreased to 28 acres due to better mapping methods used.
Fire Officials stated the fire had reached a 60% containment status around 0356 hours on September 26th.  Firefighters would remain on-scene throughout the day.
An update was provided by the lead Fire Agency, CALFire – Butte County in containment status had reached 75%.  Fire crews would use equipment to build containment lines.
While working on this fire, fire crews from this agency have now been dispatched at 1255 hours to another wildfire. This one is called Renegade Fire located on Renegade Road in the Robinson Mill area.
RENEGADE FIRE
Firefighters were dispatched to a one-half acre fire on Renegade Road in the Robinson Mill area around 1255 hours on Wednesday, September 27, 2017.
Due to a quick response and aggressive fire tactics, fire crews were able to stop the forward spread of fire at 1323 hours.
(c) 2017 The CA Fire Report – updated 9/27/2017 @ 2111 hours PDT