SOUTHERN LNU COMPLEX FIRES
Incident Summary
The Southern LNU Complex consists of several fires which include the Partrick, Atlas, Nuns, Abobe, Norrborn and Pressley fires.  Command is in in Unified Command with CAL Fire Team 3 and the Napa County Sheriff's Office.  Fires started around October 8 and 9th from an unknown cause that is under investigation.
UPDATE 1 – 10/11/20/2017 0056 Hours – Wednesday
Southern LNU Complex (Overall totals)
Brush fire that was started on 10/9/2017 around 2152 hours PDT.  Located in the Counties of Napa, Sonoma and Solano.  Total 75,156 acres.  5,000 structures currently threatened.  178 structures destroyed.
There are 79 engines, 17 water tenders, 17 helicopters, 18 hand crews, 23 dozers and 950 personnel.  Incident Cooperators include Napa County OES, CHP, CDCR, Sonoa County OES, PG&E, CA State Parks and Solano County OES. ICP is in Unified Command with CAL Fire IMT Team 3 and the Napa County Sheriff's Department.
Social Media reported around 1800 hours on Wednesday, 10/11/2017 that there will be/has been another 900 firefighters in Sonoma and Napa Counties. They will bring with the 190 fire engines and 22 dozers.  Firefighters are coming from all over California, Washington, Oregon, Nevada and Arizona.
Atlas Fire.  43,349 acres. 3% containment.  An additional Type 3 strike team of engines have been ordered/on-scene to the top of Soda Canyon Road to assist with structure protection. (Photo Credit: Stuart Palley – published with permission)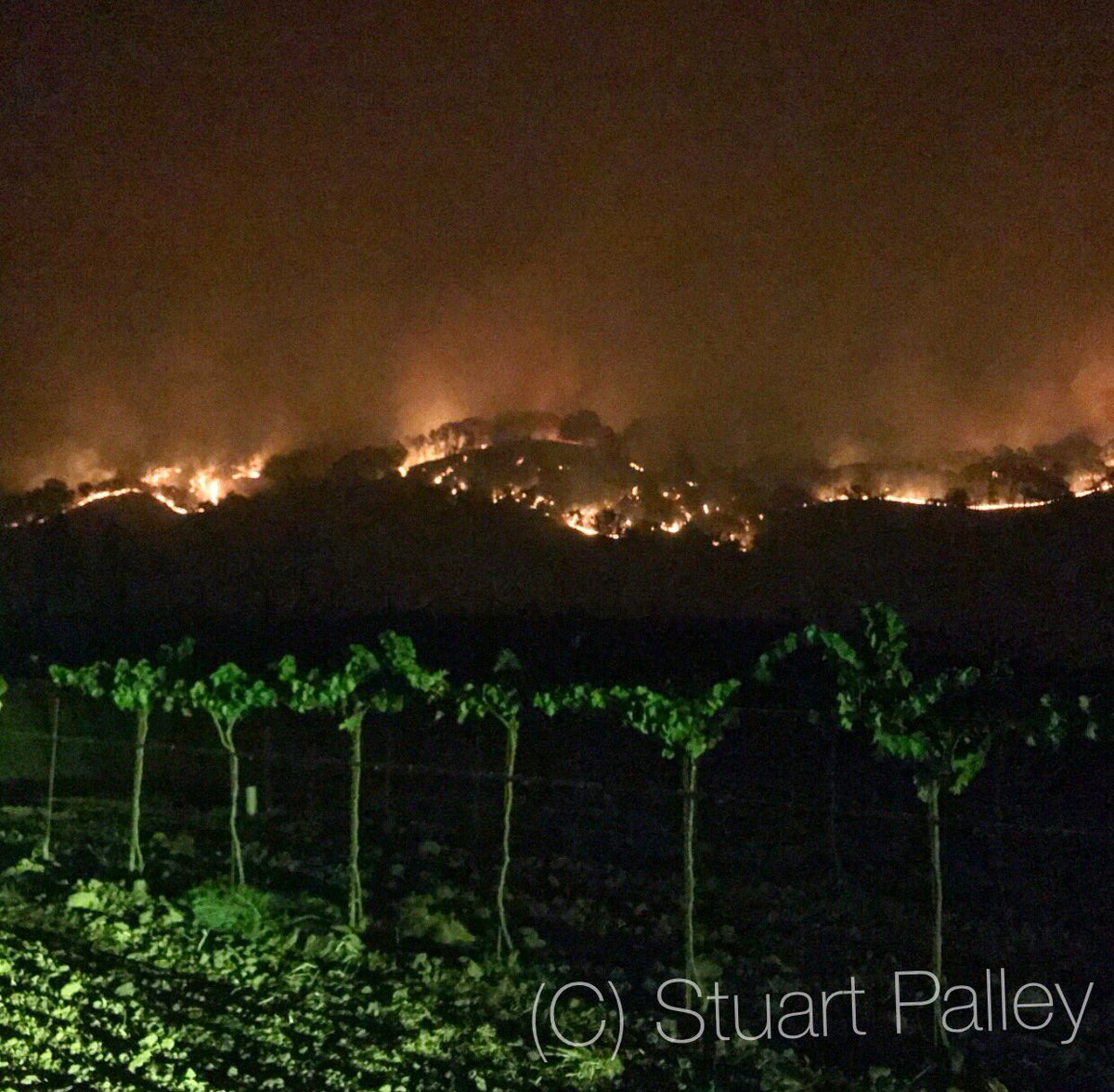 Patrick Fire.  Located west of Napa in Napa County. Started 10/8/2017 around 1148 hours.  9,523 acres. 2% contained.
Nuns Fire.  8,476 acres. 2% containment status.
Adobe Fire.  9,004 acres. 1% contained.
Noorbom Fire.  4,331 acres. 1% contained.
Pressley Fire.  473 acres. 1% contained.
Evacuations. There are current mandatory evacuations in effect for:
Napa County.  Monticello Park, Silverado Country Club, Hardman/McKinley/Estee, Circle Oaks, Buhman Road, Wild Horse Valley Road, Silverado Trail from Trancas to SR 128, SR 128 to Moskowitz, Monteceto/Monte Vista and Berryessa Highlands.
Sonoma County.  All of Glen Ellen, West of Jack London State Park, East of Bennet Valley Golf Course, Sonoma Mountain Road, Bennet Ridge Road, Enterprise Road, Wall Road, Cavedale Road, Arnold Drive and Partrick Road to Browns Valley Road.
Solano County.  Upper and Lower Green Valley.
People Shelters.  Per the Sheriff's Office, here are the current updated Shelter list.  Those that are full have been taken off of this list.
Calistoga Fairgrounds.  1435 N. Oak Street, Calistoga CA 94515
Napa Valley College Gym.  2277 Napa Vallejo Hwy, Napa, CA 94558
Allan Witt Sports Park.  1741 W.  Teas Street, Fairfield, CA 94537
Solano Community Park.  400 Suisun Valley Road, Fairfield, CA 94533
Fairfield HS.  205 E. Atlantic Avenue, Fairfield, CA 94533
Animal Shelters.  These are most up-to-date shelters.
Napa County Animal Shelter (Small animals).  942 Hartle Court in Napa, CA 94559.
Pets Lifeline Animal Shelter (Small animals). 19686 8th Street, East Sonoma, CA 95476.
Solano County Fairgrounds (Large animals).  900 Fairgrounds Drive in Vallejo, CA 94589.
Sonoma Valley HS FFA (Large animals).  20000 Broadway in Sonoma, CA 95476.
Road Closures.  Check out info here.   http://cdfdata.fire.ca.gov/admin8327985/cdf/images/incidentfile1866_2732.pdf
Death Toll.  As of today, it had been reported that up to 24 people have lost their lives and in one community, over 500 people were unaccounted for.
Damage Assessment.  A report on Social Media is stating up to 3,500 structures have now been destroyed.
Other Wildfire Related News.  Five people were arrested in Sonoma County after they were allegedly looting.
Social Media.  National Guard is now manning road blocks.  Some say it feels like a war zone with all the Humvees and camo.
(c) 2017 The CA Fire Report