VENTURA COUNTY, CALIFORNIA | A fast-moving brush fire ignited on Monday night, December 4, 2017, that was reported initially at 500 acres would quickly turn into a runaway firestorm.  The fire started just North of Santa Paula near Highway 150.  The fire has burned into the City Limits of Ventura and is said to be heading towards Highway 33 and the ocean.
Multiple additional wildfires are also burning:  #CreekFire #RyeFire, which we will cover in an additional post.
One fatality has been released from the fire when there was an auto accident that occurred.
UPDATE 2 & 3 – DECEMBER 5, 2017 (Morning & Evening Updates)
1752:  Control objectives have been received from CAL FIRE as of 1742 hours which are:
1) Keep the fire North of Hwy 126
2) Keep it South of Hwy 150 to Reeves Road to Hern Canyon Road to Nordhoff Ridge
3) East of Hwy 101
4) West of Toland Road.
New Management Objectives
1) Provide for/maintain public and first responder safety by using Incident Safety analysis process.
2)  Protect critical assets at risk to include any agricultural industries, historical assets within the fire area, infrastructure and improvements, watershed and transmission lines.
3) Utilize tactics that considers protection of sensitive natural and cultural resources in the Sespe Wilderness and the Sespe Condor Sanctuary.
4) The Unified IC's Leader's intent is to ensure all communications are transparent throughout all levels of Command during the incident.
5)  To ensure financial responsibility for all assigned management and fire suppression tactics.
6) Foster and enhance community and political relationships.
7) To ensure all management actions and efforts will be focused upon while serving, safeguarding, protecting the citizens and natural resources within Ventura County.
RESOURCES
Fire
0943:  1,000 firefighters are on-scene in direct fire-attack operations.
Law Enforcement
1945:  150 Sheriff's Office personnel with additional Officers from Santa Paula PD, Ventura PD and the CHP helping with evacuations and closures.
UPDATES
Official Fire Updates
2326:  Weather forecasters are stating current fire weather conditions are "extremely critical" will re-develop late Tuesday night (12/5/2017) across even broader path of Southern California.  Bone-dry RH, very strong Santa Ana winds with gusts over 60 mph and warming temps through Thursday are not what Fire Managers want to hear or see. This will impact both wildfires of the Thomas Fire and Creek Fire.
1407:  Unified Command with CAL FIRE, VCFD, Los Padres NF and Ventura City FD. 50,000 acres.
1053:  The Santa Clarita Valley Sheriff's Office reported around this time their station's 9-1-1 system was down and calls were being rerouted and were asking callers to be patient as Dispatchers may be unfamiliar with the area and require them to ask additional questions.  They stated the cause was due to a power outage.
0943:  50,500 acres.  0% containment status.  Fire being pushed by strong east winds.  Fire has burned into the City limits of Ventura.
0700: 31,000 acres. 0% containment. Unknown number of damage to structures, vehicles and other assets.  Cities Ventura and Santa Paula, along with the County of Ventura have proclaimed local emergencies. The fire has been listed as out-of-control with some structures reported as being on fire, while others are being threatened.
Fire Maps  (Credit of VCFD_PIO).
PUBLIC SERVICE ANNOUNCEMENTS
How to Prepare for an Evacuation  
#1 :  Get ready, this is a notification only but you should get prepared.  #2 : Get your family set to go at a moment's notice. Danger is in the area and you should be prepared to leave at a moment's notice.  #3 :  Danger is here and you and your family need to EVACUATE NOW.
Public Safety Updates
Text 888-777 with your zip code for Public Safety Updates.
Boil Water Order  
Casitas Municipal Water District has issued a boil water order for the Upper Ojai Valley, Casitas Springs, Foster Park and entire City of Ventura due to loss of pressure and water supply from the fire related power outages. All tap water used for drinking and cooking should be boiled to a rolling boil for approximately 1 minute. This is the preferred method to ensure water is safe to drink.
SOCIAL MEDIA REPORTS  
2306:  News media reporting fire has jumped the 101 freeway near Solimar beach.
2235:  Fire is now burning in the the City of Moorpark (Rye Fire).
2232:  Fire has now burned to the Pacific Ocean.
2230:  Fire can be seen while driving from Santa Barbara to Los Angeles as fire racing down the slopes.
2207:  NBCLA just reported flames are going down hillside on Sulphur Mtn. Rd. in Ojai.
2133:  fire has reached Hwy 101 NB towards Santa Barbara and has jumped the freeway.
2101:  A fire image posted on Social Media shows a photographer has been taking photos all day and in one photo is shows flames burning down the ridge above Hwy 101 in the Seacliff/Faria Beach area, just west of Ventura.
1940:  Fire raging toward the sea, Hwy 101 will need to close soon.
1220:  The 747 SuperTanker has been activated on a CAL FIRE call when needed contract and was due to arrive today at 1500 or 1600 hours at McClellan near Sacramento.
1153:  One reported on Social Media the obvious and the most dangerous of all:  '5 more days of strong Santa Ana winds and already 4 wildfires burning in Southern Cal that are completely out of control. 80 mph gusts Thursday.'
1020:  Nearly 50,000 acres of land burned and hundreds of structures destroyed.
0800:  31,000 acres burned.  27,000 forced to evacuated.  150 buildings destroyed.
0246:  Blocks of buildings in Ventura burn during Santa Ana winds blow.
0206:  Fire reported above the Ventura County Medical Center.
0015:  Flames from the #ThomasFire can be seen from takeoff at LAX reported by one air traveler.
FIRE IMAGES
 Credit:  Christopher Medina. (Image 1)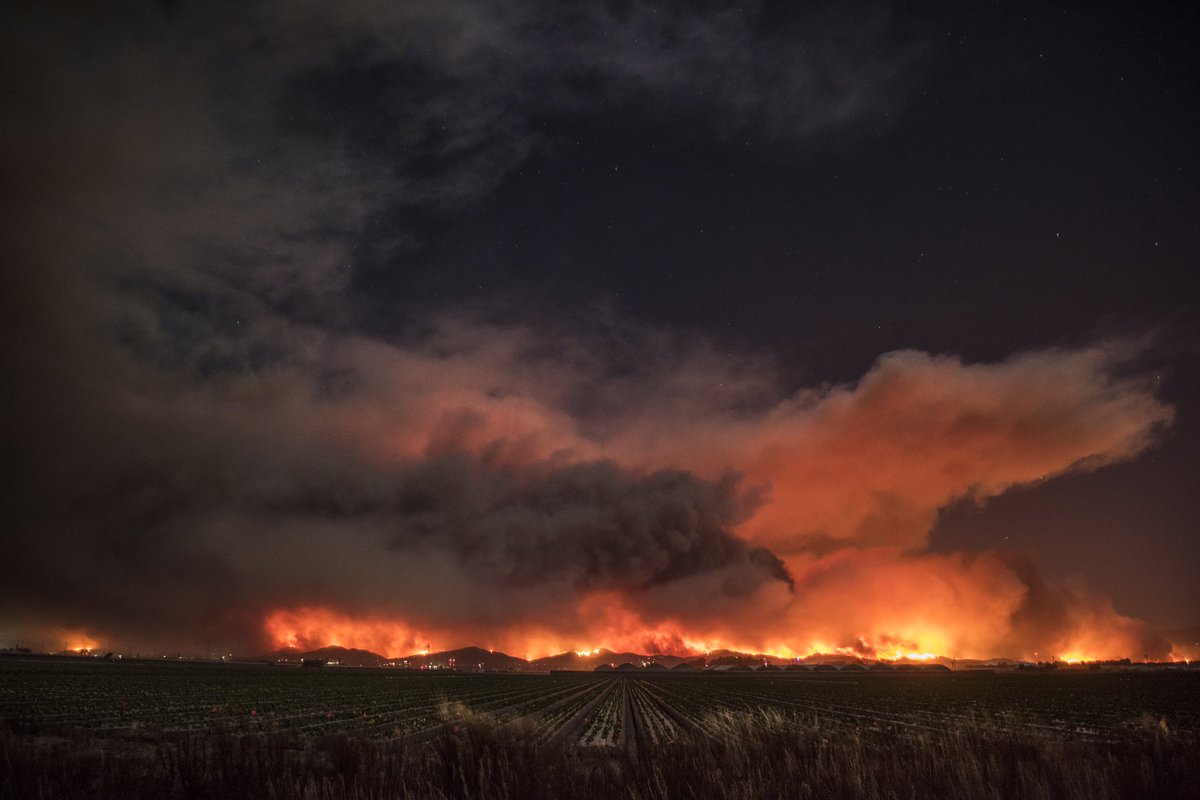 EVACUATIONS  
1945:  Ventura County North Coast Area Boundary of Hwy 33 on the north to Casitas Vista Road, NW to Hwy 150, Hwy 150 (Casitas Pass Road) west to Us 101 and south on US 101 (all of Pacific Coast Highway) to Emma Wood State Beach.
City of Santa Paula:  Boundary of Say Rd north to Thomas Aquinas, Dickenson Ranch Rd East to Santa Paul Creek.  Boundary of Monte Vista Street north to city limits.  Foothill Rd from Steckel to Peck Rd to north of city limits.
Santa Paula (unincorporated area towards Ventura) North of Foothill Road from Peck Road to Wells Road including Wheeler Canyon, Aliso Canyon and Rancho Vista.
City of Ventura:  Victoria Road east to Hill Road.  Telegraph Road north to Foothill Road.  North Ashwood Avenue east to Hill Road. Telegraph Road north to Foothill Road.  North of Foothill Road from Wells Road to Poli Street.  North of Main Street from Seward Avenue to Hwy 33 (including all of Ventura Avenue).
Oak View:  Boundary of Hwy 33, Creek Road and Hermosa Road.
City of Moorpark:  1518:  Voluntary evacuation order for portions of City of Fillmore conducted by CHP Moorpark and the City of Fillmore. (#RyeFire) 
INFRASTRUCTURE REPORTS
0003:  Major power line and SoCal Edison two substations supplying City of Ventura power will be seriously compromised by fire in the next 20 minutes.
SHELTERS
 Ventura County Fairgrounds
Miners Building.  For all types/sizes of animals.  10 West Harbor Blvd., Ventura, CA  93001.
Nordhoff High School
1401 Maricopa Highway, Ojai, CA 93023.
Oxnard College Gym
CLOSURE LIST
Unified School Districts
Simi Valley Unified School District and Ventura Unified School District.
Charter Schools
University Prep Charter School. VCOE Career Ed Center sites.  VCOE-Operated School Sites and classrooms.
Elementary School Districts
Hueneme Elementary School District, Mesa Union Elementary School District, Mupu Elementary School District, Ocean View Elementary School District, Oxnard Elementary School District, Rio Elementary School District, Santa Clara Elementary School District.
High Schools
 ACE Charter HS, Oxnard Union HS School District. (www.vcoe.org)
DONATION DRIVES
December 7, 2017
Rancho Campana HS (RCHS ASB) donation drive.  0700 – 1300.  We have reached out to the organization for their address. We are awaiting for information.
Firefighters ask you defer all donations from them towards Fire Survivors
Firefighters thanked their communities for the large outpouring of willingness to donate to them but are actually deferring donors to give to the Fire Victims:
Ventura County United Way.  http://www.vcunitedway.org   You can text them at UWVC to 41444, or online through their website or by calling them at 805-485-6288.  Checks may be sent to their office at 702 County Square Drive, Suite #100, Ventura, CA 93003.  Please write on the memo line, "Thomas Fire Fund".  100% of the donations will go directly to assisting those who have been impacted by this fire incident.
# # #
UPDATE 1 – December 4, 2017
Law Enforcement Resources: 100 VCSO personnel with additional LE personnel from Santa Paula, Ventura Police departments and CHP are helping with evacs and closures.
Fire Resources:  500 Firefighters are on the fire-ground currently in fire attack operations with additional resources en route.  2331: 4 Type 1 immediate need for strike teams for structure protection off of Polis Street.
Air Resources: Fixed wing aircraft along with helicopters are also en route and will be on-scene, if not already while we update this post to help with fire attack operations. (They were due to deploy at daybreak).
Current Status:  50 acres per minute and about an acre a second.  For anyone who knows about the rate of spread – that is ridiculously fast and more or less, a firestorm.  This is now a wind-drive fire with reports of up to 25 – 30 miles per hour. 2357:  Fire is now reported at 25,000 acres.  2350:  Structures are burning on Sexton Canyon Road and in Ondulando.  2347:  Fire is burning directly across from State Beaches in the hills above downtown Ventura. 2331:  New Spot Fire:  #CedarFire. Believed to be in Grant Park in downtown Ventura.  Is well ahead of the #ThomasFire head at 50 acres. 2256:  The fire has impacted Wheeler Ridge, Adams Canyon, Harmon Canyon (eastern edge of Ventura), passed Victoria.
Social Media Reports:  2315:  Fire can be seen from the NWS Los Angeles (weather service) building.  (2315 hours).
Infrastructure:  Due to power lines near Santa Paula in Ventura County, power outages have been reported in Santa Barbara with 51,000 + customers and 106,000 + customers in Ventura County.
Weather Reports:  2351:  Fremont Canyon Weather Station reports sustained winds of 47 MPH (from the ENE) with gusts to 69 MPH. RH:13% Temp: 52.0*
Evacuations:  Mandatory evacuations were issued and in effect by the Ventura County Sheriff Office for the following areas: 1) 436 homes located East of Dickenson Road. 2) North of Monte Vista Drive (along Highway 150) 3) South of Thomas Aquinas College to area of Bridge Road. 4) 154 homes located West of Dickenson Road. 5) West of Foothill Road and 6) West to Wheeler Canyon Road. 7) 213 homes located North of Highway 150 from Koehlgstein Road. 8) West to Dennison Grade.  9) North to Reeves Road. 10) East to McAndrew Road. 11) North to Grand Avenue.
Road Closures:   Soft Closures require resident to present Photo ID to gain access to their homes. (per the VCSO):  Wheeler Canyon Road @ Foothill Road; Highway 150 @ Reeves Road; Highway 150 @ Santa Barbara Street.  Hard Closures are for Public Safety personnel only but all drivers should avoid this area to allow for emergency response and fire suppression resources room to work and access.  Highway 150 @ Sisar Road and @ Stonegate Road.  Wells Road @ Foothill Road and Peck Road @ Foothill Road.
OUR UPDATES
We will be providing updates as we receive them. Due to the fluid of this incident, we will be making updates throughout the day and evening until it is has been fully contained and put out.
Our prayers and thoughts go out to those fighting the fire, incident command, in the air and on the ground, EMS, Law Enforcement and all 1st Responders involved directly/indirectly.  We are also thinking of those who are fleeing their homes and pray that you all evacuate safely.  Your lives matter and cannot be replaced – but your "things" can be.  Please be safe friends no matter where your journeys may take you.
(c) 2017 The CA Fire Report – 12/5/2017 2355 hours PST