VENTURA COUNTY, CALIFORNIA
GENERAL INFORMATION.  Seasonal Firefighters.  CAL FIRE has recalled all of their seasonal firefighters back to work.  Unsure if they have been deployed on this wildfire or where they are all deployed to with so many wildfires occurring all over the State.
RED FLAG WARNING.  The City of Los Angeles has issued a RED FLAG WARNING, an alert for parking restrictions that will resume at 0800 hours on Thursday, December 7, 2017 until further notice.  https://notify.lafd.org/redflag/index.cfm  (LAFD)
INCIDENT SUMMARY.  A fairly small brush of 500 acres broke out on Monday night (December 4, 2017) from an unknown cause in the area of Highways 150 and 126, north of Santa Paula in Ventura County.  The fire would quickly Blow-up from a small fire into an out-of-control and fiery Firestorm within minutes.
RESOURCES.  Fire Command. 1905:  Unified Command consists of CAL FIRE, Ventura County FD_PIO, Ventura City Fire and Los Padres NF.  (CAL FIRE).  1202:  MAFFS (146 AirliftWing), a CAL FIRE resource was deployed.
Strike Teams.  2201:  Multiple ambulances from AMR, Goldcoast and Lifeline are forming a strike team to respond to Ojai Valley Hospital.  (Scanner Feed/Twitter)
2200:  Ambulances will start evacuating patients.  (Fire Photographer/Twitter)
CURRENT FIRE STATUS.  2255:  Fire reported as burning at the Thacher School barns as of 2155 hours ago.  
2226:  Social Media users reporting fire is now well established in Matilijah Canyon.  With the wind, it is probably going all the way to Carpenteria.  (Social Media/Fire Photographer).
2218:  Possible multiple spot fires.  Resources are backing out to a safe location.  IC requesting hard closure of Hwy 33. (Scanner Feed/Twitter)
2203:  Multiple large KV power lines archiing two miles off of Hwy 126, impacting firefighting operations and firefighter safety.
2100:  Structure protection and evacuations in effect for mandatory evacuations for Ojai neighborhoods north of Grand Avenue. Fire officials have told news media they feel they have enough resources for structure protection.  Ojai is at the top of their priority list.  (News media)
2030:  Fire behavior is extreme with an extreme rate of spread with long-range spotting and is wind-driven.  Fire established on the north and east sides of Hwy 150.  Burning on west side of Hwy 33.  Fire pushing NW of Ventura and has reached Hwy 101. 1818:  90,000 acres. 5% containment. 
2026:  Social media reported seeing a flare up, east of where the fire original started. (Twitter)
1947:  Social Media showed a fire image of massive fire seen over a hillside from looking the viewpoint of Moorpark. The fire was seen reaching the top of the mountainside and beginning to head back down on the other side towards the water.
1905:  Fire at 90,000 acres with a 5% containment status.  Unified Command with CAL FIRE, VCFD_PIO, Los Padres NF and Ventura City FD.
0959:  65,000 acres. 0% containment status.  Multiple evacuations in effect throughout the County.  (VCFD)
0728:  Fire getting worse in Los Angeles (Ventura County). Air quality is horrible, even if you are not near the fires. (Twitter)
0400:  Fire appears to be moving up the coast from Ventura, Solimar to Conchita. (Twitter)
ALERTS.   Water Boil Order: For Upper Ojai Valley, Casitas Springs Foster Park and entire City of Ventura.  This is due to the loss of pressure and water supply from fire related power outages.  All tap water used for drinking or cooking should be boiled to a rolling boil for approx one minute.  (Casita Muncipal Water District)
Curfew In Effect:  A local Emergency Declaration has been declared by the Cities of Santa Paula and Ventura, as we well as the County of Ventura.  Curfew has been established by the Ventura Police Department from 2200 hours through 0500 hours daily. (Ventura PD)
ROAD CLOSURES.  1600:  Route 150 in Ventura County closed between Santa Ana Road @ Lake Casitas and Rte 192 (Casitas Pass Road near Capinteria. (CAL Trans District 7)
#PREPARE NOW
Evacuations. Evacuating?  Take these with you – 1) People+Pets, 2) Papers (important documents), 3) Prescriptions, 4) Photos, 5) PC hard drives+disk and 6) Plastic (credit/ATM cards) and cash.
How to Prep Your House for a Wildfire.  https://www.fema.gov/media-library-data/1409003859391-0e8ad1ed42c129f11fbc23d008d1ee85/how_to_prepare_wildfire_033014_508.pdf FEMA guide. See pages 11, 12.  (FEMA)
EVACUATIONS. 2302:  Local fire officials expect the entire area between Hwy 33, Hwy 150 and US 101 to burn.  CHP saying Hwy 150 is currently open at the most should begin the EVACUATE NOW.  (News Media)
2156:  Timber Creek to Tolland Road in Santa Paula starting mandatory evacuations. 
2104:  Fire is either or heading into Ojai.  If this is the case, EVACUATE!  This is a runaway fire and is out-of-control. 
2100:  Mandatory evacuations for Ojai neighborhoods north of Grand Avenue.  (News media)
2022:  Ventura County – North Coast area:  Boundary of Hwy 33 on the North to Casitas Vista Road.  NW to Highway 150.  Hwy 150 (Casitas Pass Rd) west to Us 101.  South on US 101 (including Pacific Coast Highway) to Emma Wood State Beach. 
Additional evacuations consist of:  City of Santa Paula – to Thomas Aquinas. Dickenson Ranch Road east to Santa Paula Creek.  Bondary of Monte Vista Street north to city limits.  Foothill Road from Steckel to Peck Road to north of city limits.  (VC OES)
1222:  Over 50,000 people affected by evacuations  6 shelters are open and taking in evacuees.  Locations at readyventuracounty.org. (VCFD_PIO)
WEATHER REPORTS. 
1507:  A RED FLAG WARNING has been issued for an extended period of time across much of S CAL through Saturday.  High wind warnings are in effect for most of LA  and Ventura Counties, mountains and valleys.  
1443:  Epic winds forecasted and extremely dry conditions.  How people can #PrepareNOW to evacuate.  Follow these personal rules firefighters share with their families.
1259:  Winds changed direction from offshore to onshore. Winds are pushing smoke into the west part of Counties Ventura, Oxnard and towards Camarillo. Severe impact on air-quality and visibility is also occurring. (VCFD_PIO)
0949:  Forecasts for Santa Ana winds to continue to elevate fire danger in the Southern part of the State with expectant winds to reach 80 mph on Thursday, December 7, 2017.  Any new fires will have extreme levels of fire growth, so it is important for you and your family to have a plan to evacuate safely. (CAL FIRE)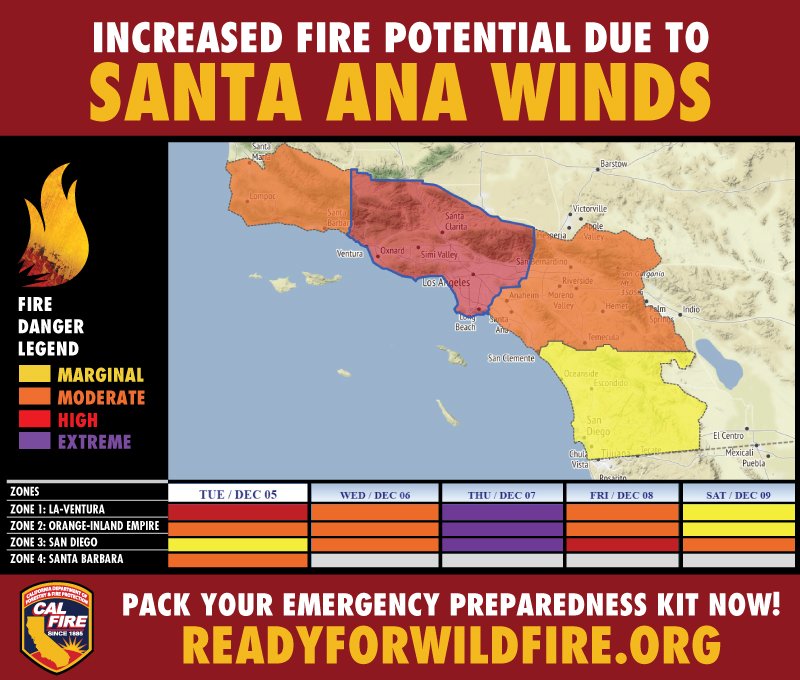 FIRE  SURVIVOR RESOURCES
Mobile Medical Unit:  Located at the Ventura County Fairgrounds.  Providing care for those in need.
Emergency Alert:  Strong winds overnight creating extreme fire danger. Stay alert and listen to authorities.  (VCSO)
Counseling, Crisis Intervention:  Disaster Response teams from the Ventura County Behavioral Health Department will be available at shelters to assist with services to those individuals and/or families displaced and traumatized by the fire. They are also assisting with community referrals.  You can reach them 24/7 through a toll-free hotline at 866-998-2243.
HOW YOU CAN HELP
UWVC:  Text 41444.  100% of donations go to those impacted by the fire will benefit all fire survivors.
(c) 2017 The CA Fire Report – 12/6/2017 2345 hours PST