LOS PADRES NATIONAL FOREST – VENTURA, CALIFORNIA
Incident Summary
The Thomas Fire started on December 4, 2017 at around 1826 hours PST from an unknown cause, in the upper Ojai area near Thomas Aquinas College in the city of Santa Paula in Ventura County.  It was originally reported on Hwy 150 & Hwy 126 originally north of Santa Paula.  The cause is being investigated.
Emergency Hotline – 805-465-6650
The vegetation fire started out as a 500-acre incident but with the Santa Ana winds kicking and topography in the mix, the fire has literally exploded.
Resources
Fire management of the fire is under Unified Command with CAL FIRE, VCFD, City of Ventura, Los Padres NF and VCSO.
Today, fire personnel of 4,435 remains the same but equipment and additional resources have been increased to 611 (increased) engines, 55 (increased by 8) crews, 30 helicopters, 51 (increased by 3) bulldozers and 31 water tenders.
There is a CAL FIRE IMT Team 4 that is currently in control of the fire.
Incident Cooperators consist of CAL FIRE, VCFD, Sacramento FD, Ventura Co Air Unit, VCSO, Santa Barbara FD, City of Ventura FD, City of Ventura PD, USFS/Los Padres NF,
CAL OES, Red Cross, SBC Fire Info,S CAL Edison, CHP, CA DOC, S CAL Gas, Crimson Pipeline, Wildfire Defense System, CA Resource Group, Santa Paula PD, Santa Paula FD, Santa Barbara OEM and Ventura County OES.
Current Fire Status
Fire containment of 15% remains the same with the amount of land scorched creeping slightly up to 173,000 acres due to moderate Santa Ana winds pushing the fire last night.  These winds are predicted to continue through to early Sunday afternoon with significant fire growth in the Carpinteria area.
The fire continues to burn actively to the north, east and west. It will continue to threaten structures in various part of Cities Ventura, Ojai, Casitas Springs, Santa Paula, Carpinteria, Fillmore and unincorporated areas of Ventura County and Matilija Canyon.  It is expected to head rapidly towards Sespe Wilderness and the Sespe Condor Sanctuary.
Firefighters continue to use tactics that ultimately use their tireless efforts to protect life and property while working on containment measures around the fire perimeter.
There have been 754 structures destroyed and 162 damaged.  There are still 15,000 structures under direct threat.
Fire Weather
Smoke Plume Visualized:  NWS Los Angeles shows a smoke plume of this fire nearly to 30,000 feet as seen by a cross-section of Vandenberg Doppler Radar at 1137 hours today.  Plume growth on a wildfire can lead to rapid fire spread.
Fire Forecast:  
Proclamations
The County of Ventura, City of Santa Paula, City of Ojai and City of Ventura have all proclaimed a local emergency. 
California Governor Jerry Brown has issued a proclamation of a State of Emergency for Ventura County. The Department of Homeland Security, Federal Emergency Management Agency has declared an emergency for Ventura County.
"The California wildfires are a terrible tragedy. But our first responders are doing a good job & their response is truly a joint effort. The winds are still here. Listen to what officials are saying — get alerts on your phone & be ready to go." – Governor Jerry Brown
Air Quality Alerts
Ojai:  Ojai is experiencing smokey conditions from unburned fuel within the perimeter above Soule Park. VCFD on scene controlling. (1133 hours)
Air quality should be considered unhealthy in areas directly impacted by smoke, especially in the Ojai Valley and surrounding areas where air quality is extremely poor. For more information go to http://www.vcapcd.org/ (Ventura County Air Pollution Control District)
"Smoke impacts from these devastating fires are widespread. Air quality should be considered unhealthy in areas directly impacted by smoke. 
In the Ojai Valley and surrounding areas, the air quality is very unhealthful, even reaching hazardous levels at times.
Hazardous is defined by the EPA as "Health warnings of emergency conditions. The entire population is more likely to be affected." Also, all of the coastal plains are experiencing unhealthy air.
If you are in an area directly impacted by smoke, please exercise extreme caution and avoid vigorous outdoor or indoor exertion. People with respiratory or heart disease, the elderly, and children should remain indoors. Run your air conditioner if you have one. Keep the filter clean and fresh air intake closed. Close all windows and doors that lead outside to prevent bringing additional smoke inside. If this is not an option or it becomes extremely hot inside, please seek alternate shelter.
For information regarding the fire, evacuation notices, road closures…etc…please check readyventuracounty.org  or the Twitter feed for the Ventura County Fire Department Public Information Officer, @vcfd_pio. Please check our website, vcapcd.org, or Twitter feed for the latest updates (@vcapcd)." – VAPCD
Smoke Forecast Outlook:  
Recovery Efforts for Fire Survivors
Ventura County: The County has launched a recovery efforts website for fire victims.  http://www.VenturaCountyRecovers.org  https://twitter.com/VCFD_PIO
In-Kind Donations:  U-Haul offers 30 days of free storage for residents impacted by Thomas and Creek fires. http://ktla.com/2017/12/05/u-haul-offers-30-days-of-free-storage-for-residents-impacted-by-thomas-and-creek-fires/ (Reported byNews TV Media on 12/5/2017)
Road Closures
Los Padres NF:  The Forest Service has closed major portions of the Santa Barbara, Ojai & Mt. Pinos Ranger Districts for public & firefighter safety.See updated road closure map here. (Credit: Los Padres NF)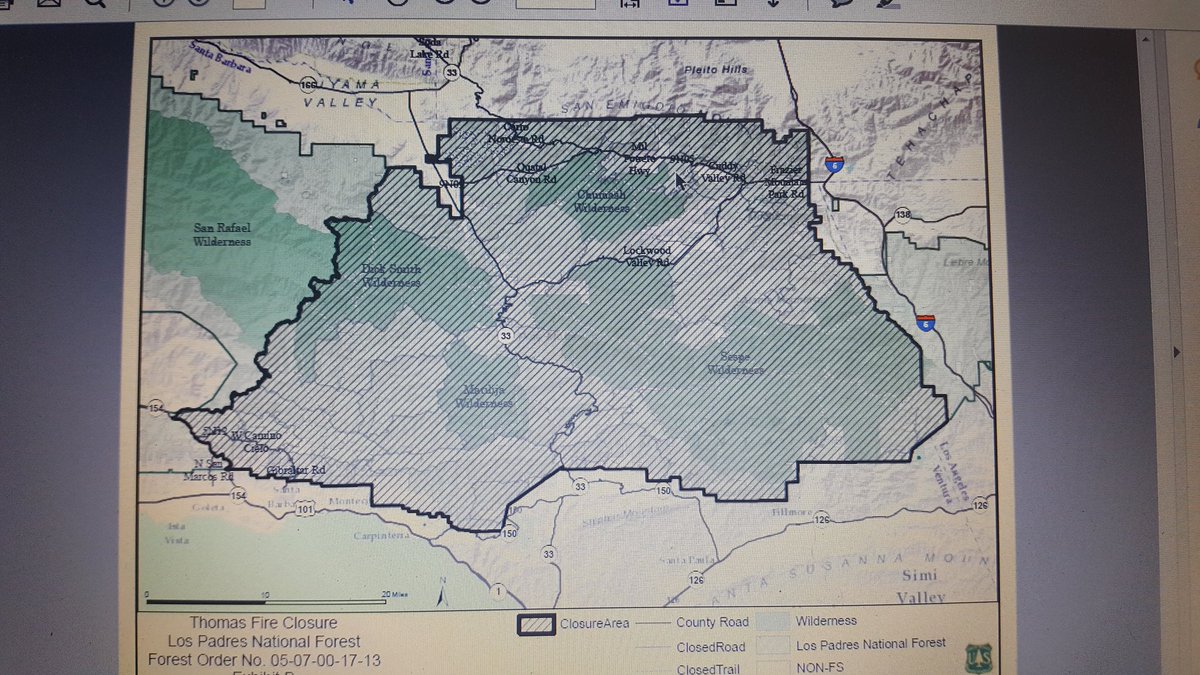 School Closures
Ventura County Schools:   http://www.vcoe.org/
Santa Barbara County Colleges:   http://www.oxnardcollege.edu/news/thomas-wildfire-updates-as-of-129-615pm
CLOSED:  Santa Barbara Community College (closed 12/11/2017, to reopen on 12/12/2017)
Santa Barbara School Districts: 
OPEN:  Cold Spring School District, Montecito Union School District. (closed 12/11/2017)
CLOSED:  Adelante Charter, Goleta Union School District, Hope Elementary School District, Peabody Charter, Santa Barbara Charter, Santa Barbara Unified School District (closed 12/11, to reopen 12/12)
CLOSED:  Carpinteria Unified School District (closed 12/11, 12/12 – to reopen 12/13/17)
Mandatory Evacuations
Santa Barbara County: Due to too many evacuations, we are providing a link for you to view all areas.  http://cdfdata.fire.ca.gov/pub/cdf/images/incidentfile1922_3166.pdf (Released by Unified Command)
Evacuation Shelters
City of Ventura: Ventura County Fairgrounds. Red Cross Shelter. Includes an animal shelter additionally for all types of animals. 10 W Harbor Blvd, Ventura, CA.
City of Oxnard:  Oxnard College Gym, 4000 South Rose Avenue, Oxnard, CA.
City of Ojai:  Red Cross transitioning from Nordoff HS Shelter to this site. 1401 Maricopa Hwy, Ojai, CA.
City of Santa Paula:  Community Center. Red Cross Shelter. 530 West Maini St., Santa Paula, CA.
All Animal evacuations/shelter are now being handled solely at the Ventura County Fairgrounds, 10 W Harbor Blvd, Ventura, CA 93001.
Animal Evacuations
Animal Evacuations Assistance: Call 866-EVRT911 or 866-387-8911 to help evacuate your animals.
Animal Shelter: Ventura County Fairgrounds (any type or size of animals). 10 W Harbor Blvd, Ventura CA.
Reminders
No Drones in Fire Zones.  And because it is the law.
Scanner Feed(s)
Ventura County:  https://www.broadcastify.com/listen/feed/2858 via Broadcastify
(c) 2017 The CA Fire Report – 12/10/2017 – 1300 hours PST