LOS PADRES NATIONAL FOREST – VENTURA, CALIFORNIA
Incident Summary
The Thomas Fire started on December 4, 2017 at around 1826 hours PST from an unknown cause, in the upper Ojai area near Thomas Aquinas College in the city of Santa Paula in Ventura County.  It was originally reported on Hwy 150 & Hwy 126 originally north of Santa Paula.  The cause is being investigated.
Emergency Hotline – 805-465-6650
RESOURCES
Fire.  Fire resources are pouring into California from 10 (actually 11 – including Washington State) acting as a mutual aid to the thousands of fire personnel already on the fire ground.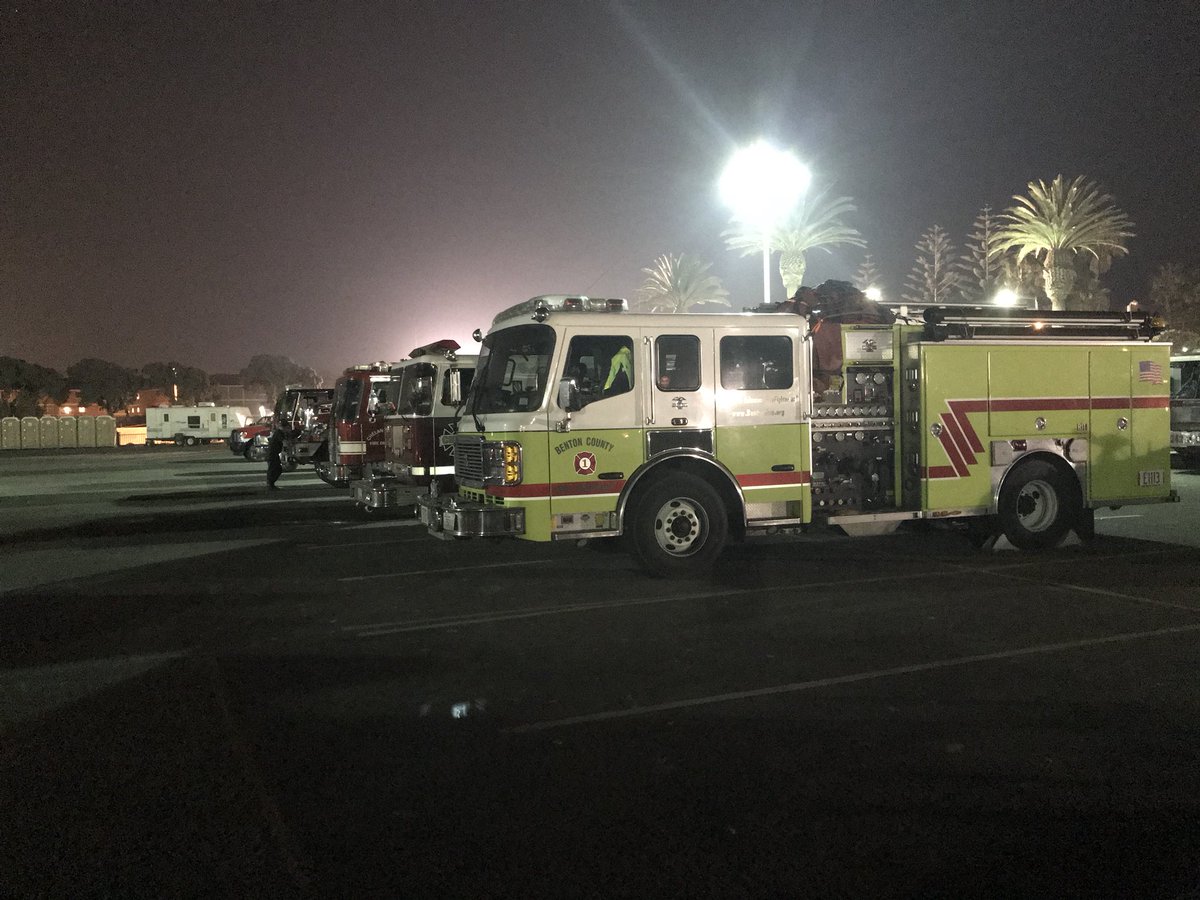 Cooperating Agencies
CAL FIRE, VCFD, VCSO, SBCoFD, VPD, Carp-Summerland FD, USFS/LPF CAL OES, Red Cross, SoCAL Edison, CHP, CADOC, SoCaGas, Crimson Pipeline, Wildfire Denfense Systems, CA Resources Group, CAL Trans, SPPD, SPFD, VC OES, SB OEM, WA State Strike Teams.
Current Fire Status
The Thomas Fire has consumed 230,000 acres and has a 15% containment status. 794 structures have been destroyed with 187 damaged.  18,000 structures are still under direct threat.
Severe fire weather will continue to significant fire growth further into Santa Barbara County threatening communities of Montecito and Summerland.  Gusty Santa Ana winds will continue to push the fire to the west while very low fuel moisture, high temps and single-digit RH will support fire growth on the west and north sides.  
Extreme fire behavior will continue to hamper control efforts.  Firefighters will continue with structure protection.  Gusty NE winds will cause the fire to threaten areas in the City of Santa Barbara, Capenteria, Summerland, Montecito and surrounding areas.
Evacuation operations will occur ahead of the westward fire growth.  Contingency groups will work to establish contingency line in Santa Barbara County in areas of Windy Point, Camino Cielo and Foothills.
Evacuations
Ventura, Santa Paula:  Fire map.  https://www.google.com/maps/d/viewer?mid=1CePU2TdEh86nmBDBfPOAXf8Hp7NlpVpA&ll=34.28932874392301%2C-119.08218395708002&z=10
Resources
There are currently 6,397 fire personnel assigned to this incident along with 856 fire engines, 113 fire crews, 27 helicopters, 67 bulldozers and 48 water tenders.  CAL FIRE IMT 4 is still in command.
School Closures
Ventura County: http://www.vcoe.org/
Santa Barbara:  19 of the 20 school districts in Santa Barbara are closed December 11, 2017. Closed through the end of the week (to reopen January 2): All South County School Districts: Carpinteria USD, Montecito USD, Cold Spring SD, Santa Barbara USD, Hope Elementary SD, Goleta USD 
Closed Monday: All 7 Santa Ynez Valley School Districts: Ballard, Buellton, College, Los Olivos, Santa Ynez Valley UHSD, Solvang, Vista del Mar
Closed Monday. All North County/Santa Maria Valley School Districts: Santa Maria Bonita School District, Santa Maria Joint Union High School District, Orcutt School District, Guadalupe Union School District, Blochman Union School District.
Colleges: http://www.oxnardcollege.edu/news/thomas-wildfire-updates-as-of-129-615pm
(c) 2017 The CA Fire Report – 12/11/2017 – 0800 hours PST