LAS PADRES NATIONAL FOREST – VENTURA, CALIFORNIA
Emergency Hotline – 805-465-6650
INCIDENT SUMMARY 
6 wildfires are burning and has destroyed a total of 175,000 acres  along with 793 structures prompting evacuations of 90,000 civilians.#RyeFire #SkirballFire #ThomasFire #CreekFire #LilacFire #LibertyFire
Start Date/Time. The Thomas Fire started on December 4, 2017 at around 1826 hours PST.
Location. Started in the upper Ojai area near Thomas Aquinas College in the city of Santa Paula in Ventura County.  
Size. Due to the Santa Ana winds in the area, the fire would consume 500 acres immediately but become the firestorm that it is today.   As of today, the fire has consumed 148,000 acres and has a 15% containment status.
Current Fire Conditions. Fire Officials confirm the fire has NOT crossed over the Santa Barbara County Line but it is approximately 3/4 of a mile east of the line. (0942 hours)
The fire behavior is active backing fire with short-runs and wind in the northern portion above Lake Casitas.  Wind has hampered containment efforts.  After aggressive firefighting Friday, Fire officials expect the containment percentage to increase on Saturday morning after the operation briefing. 
This fire progression map shows Friday's increase in acreage of over 18,000 acres.
Fire has transitioned from a wind-driven fire to a topography driven fire.  Brittanica defines it in layman's terms as this, "Topography also affects wildfire, which spreads quickly uphill and slowly downhill. Dried grass, leaves, and light branches are considered flash fuels; they ignite readily, and fire spreads quickly in them, often generating enough heat to ignite heavier fuels such as tree stumps, heavy limbs, and the organic matter of the forest floor.
Such fuels, ordinarily slow to kindle, are difficult to extinguish. Green fuels—growing vegetation—are not considered flammable, but an intense fire can dry out leaves and needles quickly enough to allow ready ignition. Green fuels sometimes carry a special danger: evergreens, such as pine, cedar, fir, and spruce, contain flammable oils that burst into flames when heated sufficiently by the searing drafts of a forest fire."
Current Threats.  Fire is requesting high voltage power lines in the 100 block, west of Ojai be shutdown.  (1435 hours) Fire continues to threaten structures in various parts of Ventura, Ojai, Casitas Springs, Santa Paula, Carpinteria, Fillmore and unincorporated areas of Ventura County and Matilija Canyon. Fire is expected to spread towards Santa Barbara County, Sespe Wilderness and the Sespe Condor Sanctuary.
Cause. The cause is unknown and under investigation.
For all 6 wildfires combined, collectively there are 8,500 firefighters actively fighting fire and working to protect life and property.
Fire Weather.  SW up valley winds will shift to the NE later in the day.  (1410 hours)  Incident Commanders are expecting NE winds 10-18 mph with gusts of 30 mph over the fire ground in the afternoon area. (1355 hours)
RH will remain very low throughout the day dropping into the single digits and low teens.  Recoveries tonight will be poor.  (1400 hours)
Red Flag Warning remains in effect for Saturday.  NE Winds are expected to move out in the afternoon hours with weak onshore flow developing. (0925 hours)
Check out NASA's Fire weather seen on their radar showing how the fierce Santa Ana winds and unusually dry air made fires in S Cal so difficult to fight and contain.
Community Public Meeting – Fire Update. Fire Officials hosted a community public Meeting discussing the Thomas Fire at noon today.  It was definitely very well attended.
FIRE TACTICS
Firefighters. Operations reports indirect contingency fire line being built by bulldozers to protect the Santa Barbara County residents. (0946 hours)
Continuance with working aggressively to protect life and property while working on control efforts around the fire perimeter. (0930 hours)
 The Matilija Fire ignited from an undetermined cause ignited in September of 1932 which burned 220,000 acres only. No structures or lives were lost. – CAL FIRE
RESOURCES
Local Resources
Fire Personnel.  3,993  
Fire Command. Unified Command consists of CAL FIRE, VCFD, City of Ventura, Los Padres NF, VCSO.  IMT:  CAL FIRE IMT 4.
The Day Fire in September 2006, destroyed 11 structures, reporting no fire-related deaths. – CAL FIRE
Incident Cooperators
Mutual Aid.  Cameron Park FD, Rincon Valley Fire, USFS, CAL FIRE, VCFD, VCSO,
CAL OES, Ventura Co Air Unit, City of Ventura FD, City of Ventura PD, CA DOC & Rehab,  Palo Alto FD (E65 24-hour shift deployed 12/7) and OCFA has 2 strike teams with total of 10 engines (as of 12/7/2017). 
Human Services. Red Cross
Infrastructure. PG&E, Ventura County Public Works, CALTrans
Law Enforcement.  CHP.
Equipment
Equipment.   575 fire engines, 47 fire crews, 30 helicopters, 46 bulldozers, 31 water tenders.
 EVACUATIONS
Ventura County
Due to the every evolving list of areas under evacuations, we are putting the link here so you can check minute-by-minute updates.
Some evacuations have been lifted. Here is a current list as of 1200 on 12/9/2017.  http://cdfdata.fire.ca.gov/pub/cdf/images/incidentfile1922_3156.pdf
CALFIRE Twitter – https://twitter.com/CAL_FIRE
Santa Barbara County
Evacuation Map (Credit: Santa Barbara County as of 1120 hours)
http://www.CountyofSB.org – evacuations and road closures
http://www.ReadyVenturaCounty.org – evacuations and road closures
Shelters
City of Ojai.
Nordhoff HS, 1401 Maricopa Hwy, Ojai, CA. 
Community Meeting: December 9, 2017 @ 1930 hours Saturday will be held.   
City of Oxnard.
Oxnard College Gym, 4000 s Rose Ave, Oxnard, CA. 
City of Santa Paula.  
Santa Paula Community Center, 530 W Main St, Santa Paula, CA.
UC Santa Barbara.
Santa Barbara Multi Activity Center, 516 Ocean Road, Santa Barbara. Animal Shelter for small animals, preferably in crates. 
Animal Shelters
Animal Evacuations. Assistance to help with animal evacuations.  866-387-8911.   
Animal Evacuation Shelter. Ventura County Fairgrounds.  10 W Harbor Blvd, Ventura, CA. (Large animals)
Great tips on protecting your animals during a wildfire:
DAMAGE ASSESSMENTS
Destroyed. 439 structures
Damaged. 85
Threatened. 15,000
Cost-to-Date.  $17,000,000 for fire suppression and containment costs-to-date.
ALERTS!! 
Emergency Fire Resources Call Out
Mutual Aid from outside CA.  As of 1146 hours, CALFIRE put out information showing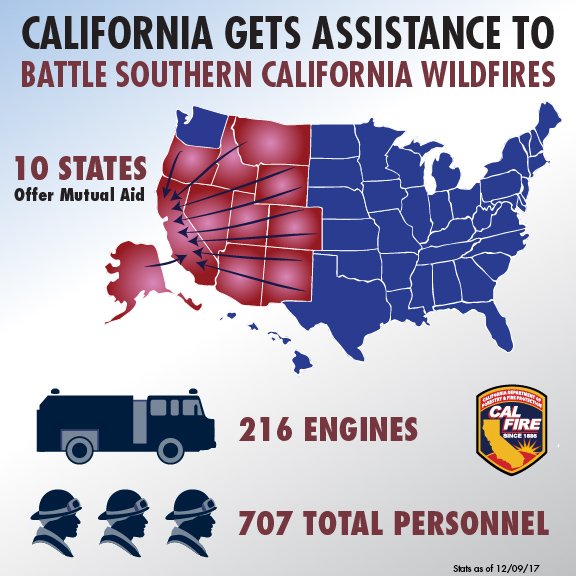 over 700 firefighters from 10 different States, not including Washington State are being called to the front lines to assist firefighters battling 6 different wildfires all burning at the same time.  
RED FLAG WARNING. A Red Flag Warning has been issued by the County of Santa Barbara from 1800 hours Saturday evening to 0900 hours on Sunday for wind and low RH for the mountains of Santa Barbara County.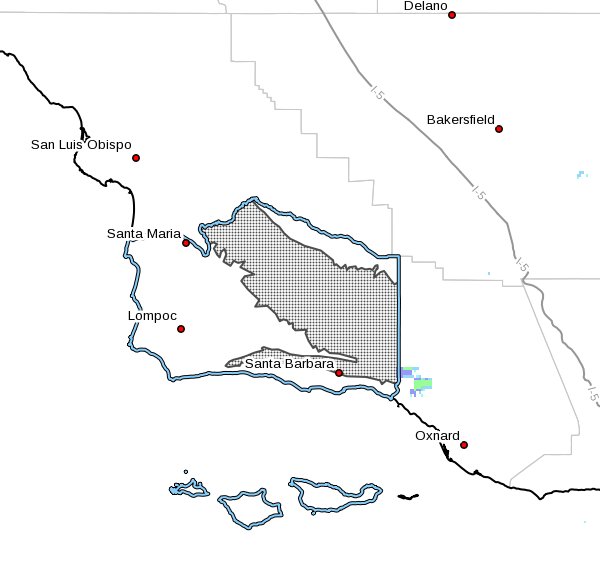 (Credit: CALFIRE)
Evacuations
NEW! Mandatory Evacuations.  Area from Rancho Matilia West to Lake Casitas.  This includes Hwy 150, Casitas Pass Rd, West to the Santa Barbara County Line (12/9/2017 1010 hours). Issued by the Ventura County Sheriff's Department.
Mandatory Evacuations. Hwy 192 on the south, Hwy 150 on the east (county line), Santa Monica Rd to the west and extending north to East Camino Cielo, Hwy 150 from Rincon Hill Rd South to the 101 and included Bates Rd and Rincon Point at the south end of Bates. (as of 12/7/2017 @ 2019 hours)
City of Fillmore. The City of Fillmore IS NOT currently under any evacuation orders. Unincorporated parts of Ventura County near the Fillmore city limits are under evacuation.
Information Kiosk. The City of Santa Barbara has an information kiosk at Paeo Nuevo off of State Street.  
Information Kiosk.  City of Santa Barbara has a second location at Stearns Wharf.
There are still 25,000 structures are under direct threat. 
Curfew
Curfew in Effect. City of Ventura PD declared curfew in response to the fire.  Effective December 5, 2017 starting at 2200 hours through 0500 daily.
Water Boil Orders
Water Boil Order. Upper Ojai Valley, Casitas Springs Foster Park and parts of City of Ventura due to loss of pressure and water supply from the fire-related power outages.  All tap water used for drinking and cooking should be boiled to a rolling boil for approx one minute.  Issued by the Casitas Municipal Water District. Details can be viewed at the City of Ventura's website : http://www.cityofventura.ca.gov/
Closures
School Closures.  List on the Ventura County Office of Education.  http://www.vcoe.org/ 
College Closures. http://www.oxnardcollege.edu/news/thomas-wildfire-updates-as-of-127-400pm
 Transportation.  Train tracks closed from Carpenteria to Faria Beach.  No AMTRAK services in Ventura County.
Proclamations
Local Emergencies Proclamations. Local emergency proclamations issued by the Cities of Santa Paula, Ojail and Ventura.
Public Service Announcements (PSA)
Fire Officials Warn: "Please continue to adhere to road closures and evacuation orders still in place.  As you re-enter your properties, please increase your situational awareness to hazards that may still exist.  
Sensitive Areas:  "Around the fire, sensitive resource areas are flagged with green on white polkadot flagging. Please avoid during repopulation."
What to do After a Wildfire.
Preparedness
How to Prep Your House for a Wildfire.  https://www.fema.gov/media-library-data/1409003859391-0e8ad1ed42c129f11fbc23d008d1ee85/how_to_prepare_wildfire_033014_508.pdf FEMA guide. See pages 11, 12.  (FEMA)
When donating to a cause, always research the organization PRIOR to giving out your personal information to avoid being scammed.
Wildfire Evacuation Checklist. Courtesy of the American Red Cross.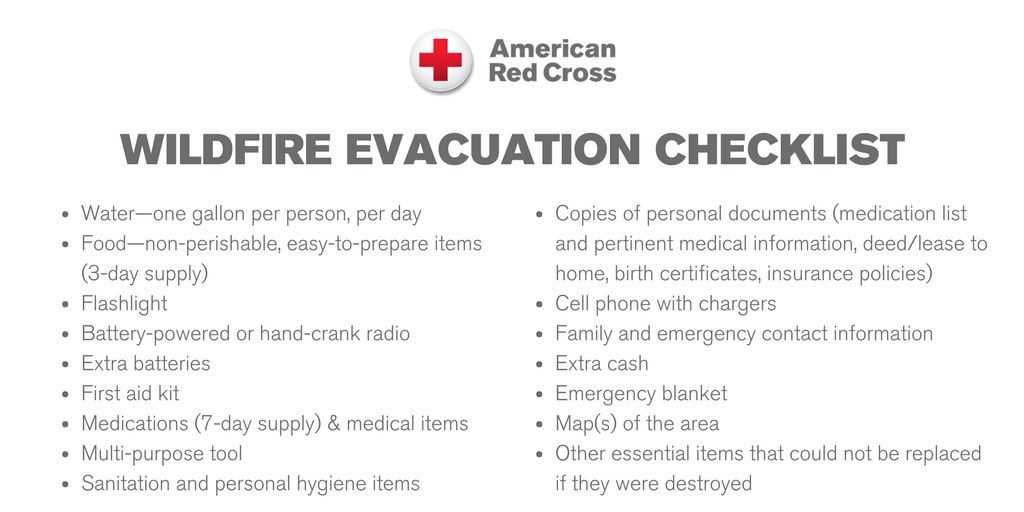 RESOURCES – FIRE SURVIVORS
Tax Relief. County Assessor working on tax relief for fire survivors.  http://www.vcnewschannel.com/news/235-county-working-on-plans-for-property-tax-relief-for-fire-victims
Mobile Medical Unit:  Located at the Ventura County Fairgrounds.  Providing care for those in need.
Counseling, Crisis Intervention:  Disaster Response teams from the Ventura County Behavioral Health Department will be available at shelters to assist with services to those individuals and/or families displaced and traumatized by the fire. They are also assisting with community referrals.  You can reach them 24/7 through a toll-free hotline at 866-998-2243.
HOW YOU CAN HELP
These organizations listed below have been reported by respected LE/Fire Agencies.
UWVC:  Text 41444.  100% of donations go to those impacted by the fire will benefit all fire survivors.
United Way. Donations can be made on United Way of Ventura County's website or over the phone at 805-485-6288. Checks with "Thomas Fire Fund" in the memo line can be mailed to 702 County Square Drive, Suite 100 Ventura, CA 93003.  vcunitedway.org
Target Stores.  Target stores in the area remain open to serve the Ventura County community. We've stocked up on emergency supplies to support evacuees and gave donations to the community.
Salvation Army. salvationarmy.org
American Red Cross. redcross.org
(c) 2017 The CA Fire Report – 12/92017 – 1519 hours PST – Updated 2045 hours PST